Legislative Yuan passes tax reform
FOR THE CHILDREN: Increases to tax deductions are expected to help reduce the burden of raising kids and benefit young people who have just 'started life'
In a bid to achieve more equitable taxation, the Legislative Yuan yesterday passed amendments to the Income Tax Act (所得稅法) that are to benefit salaried people, stock investors, parents of preschoolers, disabled people and groups, and institutions that work in the public interest.
The amendments raised the standard tax deductions enjoyed by wage earners from NT$90,000 to NT$120,000 (US$3,044 to US$4,059) and increased "special deductions" from annual salaries from NT$128,000 to NT$200,000.
Combined with an NT$88,000 tax exemption quota for salaried employees, people whose annual salary is less than NT$408,000 would not have to pay personal income tax.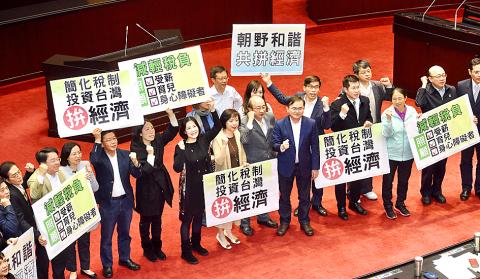 Democratic Progressive Party legislators hold signs calling for the revitalization of the nation's economy at the Legislative Yuan in Taipei yesterday to celebrate the passage of a tax reform bill.
Photo: Peter Lo, Taipei Times
The highest individual income tax rate was reduced from 45 percent to 40 percent, while the business income tax rate levied on companies' undistributed net income was cut from 10 percent to 5 percent.
Stock investors would be able to choose between two rates for dividend income tax deductions: 28 percent of their dividend income if they choose to separate dividend tax and personal income tax, or 8.5 percent if they choose to merge the two taxes into one payment, with a cap on dividend income tax deductions set at NT$80,000 per household.
The 28 percent dividend tax rate is an increase from the previous rate of 26 percent.
The legislation also increased tax deductions for disabled taxpayers and taxpayers with one or more disabled family members from NT$128,000 to NT$200,000 per household.
To address the nation's low birth rate, tax deductions for parents with children up to five years old were raised from NT$25,000 to NT$120,000, which lawmakers said would help lighten the financial burden of raising children.
People who make cash donations to educational, cultural and charity groups or institutions, or other entities that are considered to serve the public interest, would be allowed to deduct the sum donated on the condition that it does not exceed 20 percent of their annual income.
However, people who donate to the military, toward boosting national defense or to the government would not be subject to the 20 percent ceiling.
To offset expected losses in tax revenue, the businesses income tax for firms with an annual revenue of between NT$120,000 and NT$500,000 was raised from 17 percent to 20 percent in annual increments of 1 percent from this year to 2020, meaning businesses would pay proportionately higher income taxes.
The increase in standard and special deductions is expected to benefit a total of 5.42 million physically sound and disabled taxpayers, the Ministry of Finance said.
Reducing the maximum individual income tax rate has lowered the rate to less than the average maximum individual tax rate of 42.47 percent among Organisation for Economic Co-operation and Development member nations, the ministry said, adding that the reduction should help local businesses recruit and retain talent, thereby boosting the nation's global competitiveness.
New Power Party Legislator Hsu Yung-ming (徐永明) said the amendments would increase the nation's fiscal losses to a projected NT$19.8 billion next year.
Minister of Finance Sheu Yu-jer (許虞哲) said the tax reforms would add NT$38.8 billion to medium and low-income households' disposable incomes each year, benefiting them more than high-income groups.
The amendments would waive income taxes for almost half of the nation's wage earners, who make less than NT$408,000 per year, Tax Administration Deputy Director-General Sung Hsiu-ling (宋秀玲) said.
The amendments should most benefit young people who have just "started life," Democratic Progressive Party Legislator Chiang Yung-chang (江永昌) said.
The new tax rates are to go into effect this year and be applied when people file taxes next year.
Comments will be moderated. Keep comments relevant to the article. Remarks containing abusive and obscene language, personal attacks of any kind or promotion will be removed and the user banned. Final decision will be at the discretion of the Taipei Times.