Vote to recall NPP chairman fails
WITH HUMILITY: Despite holding on to his position, New Power Party Executive Chairman Huang Kuo-chang said that the number of 'yes' votes sent a clear message
A recall vote against New Power Party (NPP) Executive Chairman Huang Kuo-chang (黃國昌) was defeated yesterday after the number of ballots cast by Huang's detractors in New Taipei City's 12th electoral district failed to pass the threshold for removing him as lawmaker.
Statistics released by the New Taipei City Election Commission showed that 48,693 constituents voted in favor of recalling Huang, while less than half that number — 21,748 — voted against it, and 483 cast null votes, with a voter turnout of 27.75 percent.
Under the Civil Servants Election and Recall Act (公職人員選舉罷免法), one-fourth of the 255,551 constituents in the electoral district — in this case comprised of Sijhih (汐止), Jinshan (金山), Wanli (萬里), Rueifang (瑞芳), Pingsi (平溪), Shuangsi (雙溪) and Gongliao (貢寮) districts — must vote for the recall of a legislator, and the number of people who vote "yes" must surpass the number of people who vote "no."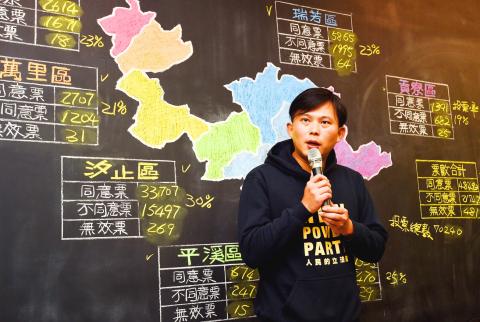 New Power Party Executive Chairman Huang Kuo-chang speaks at his liaison office in New Taipei City's Sijhih District yesterday after it was announced that an attempt to recall him had failed to reach the required number of votes.
Photo: Chien Jung-fong, Taipei Times
Huang's detractors needed to cast at least 63,888 "yes" votes.
Asked to respond to comments from the Greater Taipei Stability Power Alliance that he was a "politician who survived thanks to the rain," Huang said that he would listen with humility to all criticism.
Huang held a news conference at his Sijhih headquarters shortly after all 240 polling stations closed to thank everyone who voted "no" for keeping faith in the NPP's vision of reform and pursuit of progressive values.
He also thanked those who voted "yes," saying that it gave him motivation for introspection, adding that he would continue to welcome their criticism and supervision.
Although the recall failed, Huang said the large number of votes to recall him indicated that he had not worked hard enough to encourage his supporters to vote.
"I understand how you must feel right now, but I want to tell you that the vision of reform and progressive values we hold are right," he said.
"What is the kind of future we want? We must take this question seriously. Is this a nation teeming with hope, ideals and progressive values, or is it a place where people must continue to live in darkness and fear?" he said.
He would continue to support removing the threshold for recalling public officers as he did last year, Huang said.
"The NPP will never change its stance on realizing direct democracy," he said.
Meanwhile, Stability Power Alliance chairman Sun Chi-cheng (孫繼正), who initiated the vote, attributed the failure to his lack of hard work and apologized to the alliance's supporters for his failure to "translate mainstream opinion."
The recall drive was a "caution" to all lawmakers that they would be ousted if they refuse to communicate with voters, Sun said, adding that from that point of view the drive could be deemed successful.
Unite for a Good Lawmaker founder Yu Chung-cheng (余忠正) said he was not surprised by the outcome of the poll, as Sun has been maneuvering for more than a year, while the Huang camp only started raising awareness about the recall after it passed the initiation threshold in May.
However, he said that Constitutional Interpretation No. 748 handed down by the Council of Grand Justices in May declared that same-sex marriage is a constitutional right and that the large number of people who voted to depose Huang over his support for legalizing same-sex marriage suggested that Taiwanese still have a long way to go before they can truly embrace progressive values.
Comments will be moderated. Keep comments relevant to the article. Remarks containing abusive and obscene language, personal attacks of any kind or promotion will be removed and the user banned. Final decision will be at the discretion of the Taipei Times.