Transitional justice to be pursued: Lai
INVESTIGATION: The Presidential Office said it is illogical to debate whether roads and schools should be renamed until the truth about the nation's history is fully understood
The Executive Yuan is to immediately establish an ad hoc commission for the promotion of transitional justice to disclose historical data and remove authoritarian symbols, Premier William Lai (賴清德) said yesterday.
The Legislative Yuan on Tuesday approved the Act on Promoting Transitional Justice (促進轉型正義條例) and Lai yesterday instructed Minister Without Portfolio Lo Ping-cheng (羅秉成) to establish such a committee by nominating a list of members, drafting the organizational regulations and planning a budget.
"The establishment has to be completed in the shortest time possible to meet public expectations for transitional justice and reconciliation," Lai said.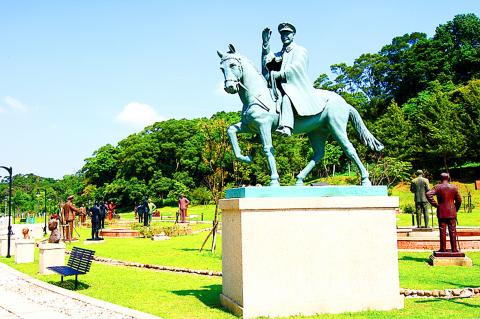 Chiang Kai-shek statues are pictured at the Cihu Mausoleum in Taoyuan yesterday.
Photo: CNA
The passage of the act is a milestone in the nation's democracy and has pivotal importance in the nation's history, he said.
The committee would be responsible for making political archives available, removing authoritarian symbols, redressing judicial injustice and investigating political persecution, Lai said.
Asked if roads and schools named after former president Chiang Kai-shek (蔣介石) would be renamed, and coins and notes bearing his portraits recalled following the act's passage, Lai said the committee would have sole discretion.
"It will be fully authorized to make investigations, file reports and make [decisions]," Lai said.
Before the committee is established, it is premature to comment on the treatment of symbols of Chiang, he said.
Executive Yuan spokesman Hsu Kuo-yung (徐國勇) said the establishment of the committee would not be as swift as was the case with the Ill-gotten Party Assets Settlement Committee, because its members did not need to be approved by the Legislative Yuan while transitional justice committee nominees do.
Meanwhile, the Presidential Office said it is illogical to debate whether roads and schools should be renamed until the truth about the nation's history is understood.
Following the passage of the act, some people have deliberately misinterpreted it and spread misinformation that the government is planning to redesign the nation's currency, and rename roads and schools, the office said.
Presidential Office spokesman Alex Huang (黃重諺) said there are multiple ways to remove authoritarian symbols, including simple removal and renaming as well as preservation and reconstruction.
The act requires the government to investigate improper criminal proceedings and human rights violations during the authoritarian era and to reinstate the rights and reputations of victims of political persecution, Huang said.
That work would be undertaken by the transitional justice committee, Huang said.
"There should be a list of priorities. Before the investigation of historical truth is completed, before the responsibilities for improper criminal proceedings and human rights violations are ascertained, how can any measures [such as renaming schools] be put forward?" he said.
Comments will be moderated. Keep comments relevant to the article. Remarks containing abusive and obscene language, personal attacks of any kind or promotion will be removed and the user banned. Final decision will be at the discretion of the Taipei Times.