Ching Fu wanted Tuvalu loan aid
Ching Fu Shipbuilding Co (慶富造船) twice this year asked the Ministry of Foreign Affairs for help securing a loan, but the requests were rejected, a source close to the matter said yesterday.
In its requests to the ministry, Ching Fu said the loan was for a shipbuilding project it had undertaken in Tuvalu, one of the nation's allies in the South Pacific, the source said on condition of anonymity due to the sensitivity of the issue.
The company had built a ship for Tuvalu in 2009 at a cost of US$15.5 million and was working on a second vessel that it started in 2012 and was scheduled to complete in 2015, the source said.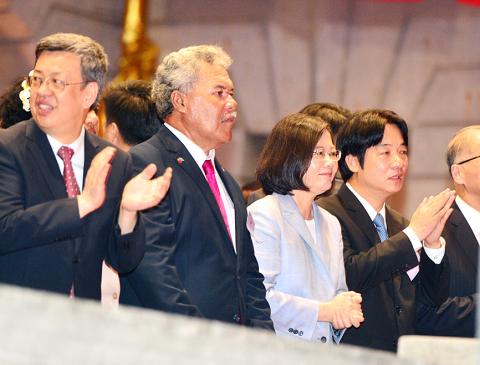 From left, Vice President Chen Chien-jen, Tuvaluan Prime Minister Enele Sopoaga, President Tsai Ing-wen and Premier William Lai on Oct. 10 attend a banquet to celebrate Double Ten National Day at the Taipei Guest House.
Photo: Wang yi-sung, Taipei Times
However, Ching Fu has not finished the second ship, and on June 3 and June 16 it sent letters to the ministry asking for help to secure a loan to complete the project, the source said.
The ministry turned down the two requests, saying that the contract was between Ching Fu and the Tuvaluan government, and that it would be inappropriate for the ministry to intervene, the source said.
The ministry said it would become involved only if the dispute between the two parties put the nations' diplomatic relations at risk, the source said.
Asked to comment on the issue, ministry spokesman Andrew Lee (李憲章) said the ministry did not use taxpayers' money to help Ching Fu complete the shipbuilding projects in Tuvalu.
It was purely a commercial dispute between the Tuvaluan government and Ching Fu, Lee said, adding that the ministry was never involved.
He said the Tuvaluan government has not asked the ministry or Taiwan's embassy in that nation to assist in the matter.
However, the ministry did ask the embassy to closely monitor developments in the case, Lee said.
Ching Fu has been embroiled in a fraud scandal over a contract that it won from the Ministry of National Defense in October 2014 to build six minesweepers at a cost of NT$34.9 billion (US$1.16 billion at the current exchange rate).
Comments will be moderated. Keep comments relevant to the article. Remarks containing abusive and obscene language, personal attacks of any kind or promotion will be removed and the user banned. Final decision will be at the discretion of the Taipei Times.