Taiwan celebrates 15 years of Pride
TWO SIDES: The Taiwan LGBT Pride Community used the gathering to promote sex education, while others derided the DPP for stalling on gay marriage legislation
The 15th annual Taipei lesbian, gay, bisexual and transgender (LGBT) Pride Parade yesterday drew about 123,000 participants, according to organizers' estimates, hitting a new record since it was first held in 2003.
At about 1pm yesterday, paraders flooded toward the event's main stage on Ketagalan Boulevard with 160 attending groups — including the American Institute in Taiwan and 12 groups from Japan and South Korea — divided into nine groups marching along three different routes.
The western route proceeded on Gongyuan Road (公園路), the northern on Zhongshan S Road (中山南路) and the southern on Xinyi Road (信義路).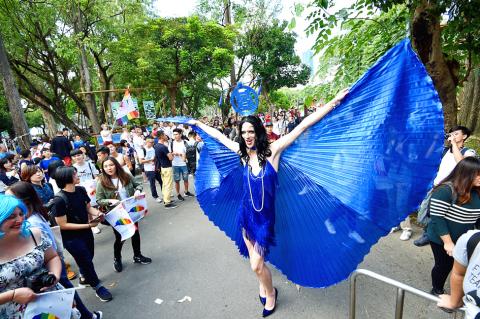 A participant poses at the 15th Taiwan Pride Parade in Taipei yesterday.
Photo: Peter Lo, Taipei Times
Video by Sophia Kuan
After a two-hour parade from 2:30pm to 4:30pm, revelers returned to the boulevard for musical performances and group speeches until about 7:30pm.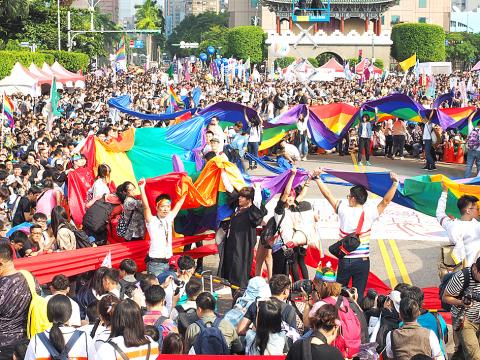 Participants raise a giant rainbow flag at the 15th Taiwan Pride Parade in Taipei yesterday.
Photo: EPA-EFE/David Chang
Event organizer Taiwan LGBT Pride Community used the event to promote sex education, saying students should have access to diversified education about different sexual orientations and gender differences.
When people are familiar with different sexual orientations across the spectrum, they will be less likely to discriminate against others who are different from themselves, Taiwan Gender Equity Education Association spokesperson Chuang Shu-ching (莊淑靜) said.
The Council of Grand Justices on May 24 announced its constitutional interpretation of the Civil Code, saying that it is unconstitutional to deny same-sex couples the right to marry and called on lawmakers to amend the code within two years.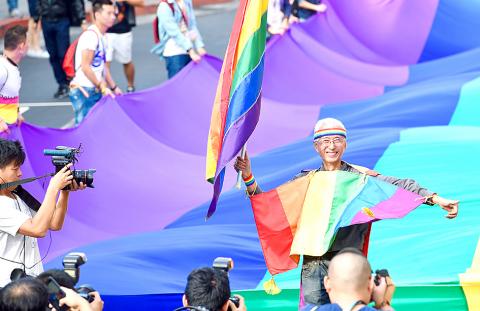 Gay rights advocate Chi Chia-wei holds up a rainbow flag during the 15th Taiwan LGBT Pride parade in Taipei yesterday.
Photo: Peter Lo, Taipei Times
The two-year period can be painfully long for many same-sex couples, Green Party Taiwan member Jia Bo-kai (賈伯楷) said, adding that some of his friends have passed away before winning the right to be married.
The Democratic Progressive Party (DPP) is deferring marriage equality legislation because it wants to cater to both supporting and opposition camps, Jia said.
"The DPP does not even have the ability to 'harvest' the issue even though the council has paved the way," he said.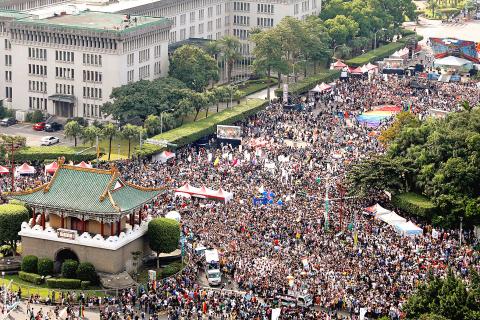 Participants attend the 15th Taiwan Pride Parade in Taipei yesterday.
Photo: Reuters/Tyrone Siu
Marriage Equality Platform spokesperson Jennifer Lu (呂欣潔) called on the government to speed up same-sex marriage legislation, adding that the equality of all citizens should come before what the opposition groups call "solidarity."
Marta Bulawa, a 23-year-old Polish woman joining the parade for the first time with her European friends, said marriage means "security" for gay people.
Loren Letourneau, a 37-year-old Canadian with two children, said sexual orientation is not a choice, but a natural disposition, and he would teach his children to be safe no matter their sexual orientation.
At 4pm yesterday, Premier William Lai (賴清德) wrote on Facebook that the Executive Yuan would follow the constitutional interpretation to propose a bill about same-sex marriage soon.
Meanwhile, both the Happiness of the Next Generation Alliance (Happiness Alliance) and the Alliance of Taiwan Religious Groups for the Protection of the Family (Family Alliance) issued statements in response to the parade's call for wider sex education.
Gay rights advocates often reduce sex education to merely sexual acts, while students should be protected from such an "improper sex education," the Happiness Alliance said.
Same-sex marriage advocates have distorted school education by instilling wrong information into students, the Family Alliance said, adding that gay people should not be involved in sex education.
Comments will be moderated. Keep comments relevant to the article. Remarks containing abusive and obscene language, personal attacks of any kind or promotion will be removed and the user banned. Final decision will be at the discretion of the Taipei Times.