Thailand begins funeral rites for king
Thailand yesterday began an elaborate five-day funeral for king Bhumibol Adulyadej with his son, the new monarch, performing Buddhist merit-making rites in preparation for moving Bhumibol's remains to a spectacular golden crematorium.
Thousands of mourners dressed entirely in black have endured tropical heat during the day and torrential rains at night as they waited to enter the historic royal quarter of Thailand's capital to bid farewell to a monarch celebrated as a unifying symbol throughout his seven-decade reign.
The rites in the ornate throne hall of Dusit palace, where Bhumibol's remains have been kept for the past year, began the series of ceremonies and processions that include his cremation this evening within a golden edifice representing mystical Mount Meru, where Buddhist and Hindu gods are believed to dwell.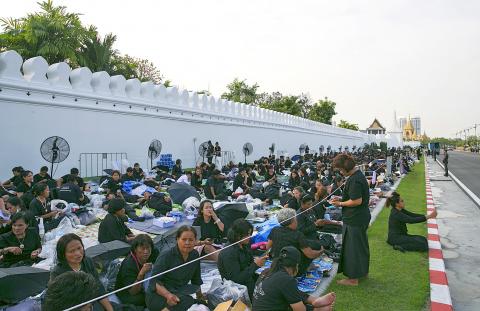 Mourners yesterday sit outside the walls of Bangkok's Grand Palace, where the body of Thai king Bhumibol Adulyadej is enshrined, awaiting the start of a five-day funeral for the monarch who died on Oct. 13 last year.
Photo: AP
About 250,000 people are expected to line the streets of Bangkok's royal quarter to witness elaborate gilded processions today that are to be broadcast live.
As orange-robed monks chanted and officials in crisp white uniforms looked on, Thai King Maha Vajiralongkorn knelt beneath a nine-tiered golden umbrella.
By tradition, deceased Thai royals have been kept upright in elaborate urns during official mourning, but Bhumibol, who spent much of his early life in the West, opted to be put in a coffin, with the urn placed next to it for devotional purposes.
Bhumibol's death at age 88 on Oct. 13 last year sparked a national outpouring of grief and a year of mourning. More than 12 million people — nearly a fifth of Thailand's population — have visited the throne hall at Dusit palace to pay respects.
One mourner, Banterng Saeuong, yesterday said that the funeral was the most important event in his lifetime.
"I am happy to stand in the rain or sit under the sun," the 55-year-old said.
The funeral is to be an intensely somber event, but also rich in history and cultural and spiritual tradition. Mourners are allowed to prostrate when royal processions pass, but must not hold up cellphones to take photographs or selfies.
Police are trying to calm occasional flare-ups of tension among mourners. There have been accusations of line-jumping and exchanges between some who have waited hours or traveled from far away.
Comments will be moderated. Keep comments relevant to the article. Remarks containing abusive and obscene language, personal attacks of any kind or promotion will be removed and the user banned. Final decision will be at the discretion of the Taipei Times.