DPP denies intervention in Cambodian politics
The Democratic Progressive Party (DPP) yesterday denied allegations that it attempted to intervene in Cambodian politics, after a Cambodian news outlet reported that a "Taiwanese extremist group" allegedly affiliated with the DPP was plotting with local political operatives to topple the government.
A report published on Aug. 31 by Fresh News, a pro-government English-language online media outlet, said that a "Taiwanese extremist group [was] holding [a] secret meeting with Cambodian National Rescue Party leaders [CNRP] to topple the government."
The meeting was "planned to overthrow the government through color revolution in order to form a new government, commanded by the US, to strategically serve US geopolitical interests in Asia," it said.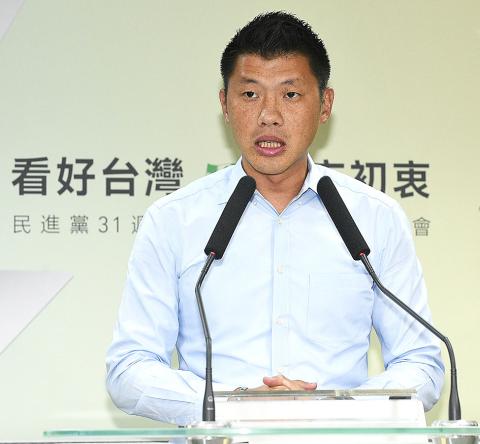 Democratic Progressive Party spokesman Wang Min-sheng, speaking at a presentation in Taipei yesterday, responds to accusations that the party interfered in Cambodia's internal affairs.
Photo: Chen Chih-chu, Taipei Times
The report, citing Facebook, did not specify the nature of the "extremist group," but based its allegations on undated photographs of a CNRP official attending a pre-election DPP rally in Taiwan ahead of last year's elections.
The report was circulated in Chinese and English-language media outlets in Cambodia.
Several English-language media, including the Phnom Penh Post, described the allegations as outlandish and unsubstantiated, while local Taiwanese businesses ran front-page advertisements in Chinese-language newspapers for three days disputing the charges.
CNRP leader Kem Sokha was arrested in Phnom Penh on Sept. 3 and accused of treason as the Cambodian government stepped up its crackdown on dissent.
The report began circulating in Taiwanese media yesterday, with the DPP rejecting the allegation, saying it did not and would not intervene in the politics of other countries.
"DPP Secretary-General Hung Yao-fu (洪耀福) sent a letter to the Taiwan Commercial Association In Cambodia, saying the party has 'no intention of intervening with the political situations in other countries,'" DPP spokesman Wang Min-sheng (王閔生) said.
"We respect international norms. Therefore, we will not comment or intervene in any of Cambodia's domestic politics," the letter said.
The DPP has asked the association to calm Taiwanese investors and businesses, and asked its members to refrain from engaging in political issues when visiting Cambodia, Wang said.
"The Cambodian government understands that the DPP would not intervene in its politics and therefore the incident has come to a peaceful conclusion," Wang said.
Overseas Community Affairs Council Minister Wu Hsin-hsing (吳新興) said that some photographs were taken more than three years ago during a trip by DPP lawmakers to Cambodia.
Wu said the photographs were published again in a recent report ahead of next year's national elections in Cambodia to influence election results.
Taiwan urges the Cambodian government to "cherish" the contributions of Taiwanese businesses to Cambodia's economic development, Ministry of Foreign Affairs deputy spokesman Andrew Lee (李憲章) said.
Cambodian authorities should also protect Taiwanese businesses' rights in accordance with local laws, he said.
Comments will be moderated. Keep comments relevant to the article. Remarks containing abusive and obscene language, personal attacks of any kind or promotion will be removed and the user banned. Final decision will be at the discretion of the Taipei Times.