No loss of land, ever: Xi Jinping
Chinese President Xi Jinping (習近平) yesterday issued a tough line on national sovereignty amid multiple territorial disputes with its neighbors, saying China will never permit the loss of "any piece" of its land to outsiders.
Xi's declaration came during a nearly one-hour speech in Beijing marking the 90th anniversary of the founding of the People's Liberation Army (PLA), which has formed a key pillar of support for the Chinese Communist Party (CCP) since 1927 and is the world's largest standing military, with 2.3 million members.
"The Chinese people treasure peace and we absolutely do not engage in invasion and expansion. However, we have the confidence to conquer all forms of invasion," Xi told government leaders and current and retired PLA members gathered at the Great Hall of the People.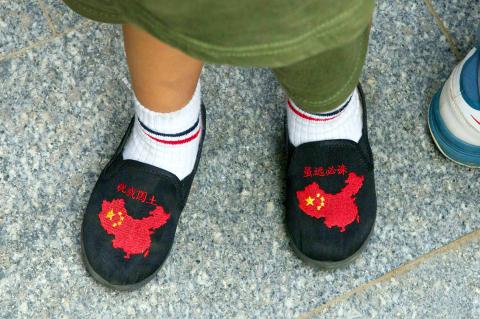 A child wears a pair of shoes embroidered with the map of China and the slogan "Those who invade my territory will be punished no matter how far away" as he lines up to visit an exhibition to mark the 90th anniversary of the founding of the People's Liberation Army at a military museum in Beijing yesterday.
Photo: AP
"We absolutely will not permit any person, any organization, any political party — at any time, in any form — to separate any piece of Chinese territory from China," Xi said to applause. "No one should expect us to swallow the bitter fruit of damage to our sovereignty, security and development interests."
Xi made no reference to any specific conflicts or disputes during his address, which focused largely on the PLA's growth from a scrappy guerrilla force fighting Chiang Kai-shek's (蔣介石) Chinese Nationalist Party (KMT) and Japanese invaders into one of the world's most powerful, if largely untested, militaries.
Xi also emphasized that the military's highest loyalty is to the CCP, underscoring the PLA's key role as regime preserver through crises such as the bloody suppression of 1989 pro-democracy protests at Tiananmen Square.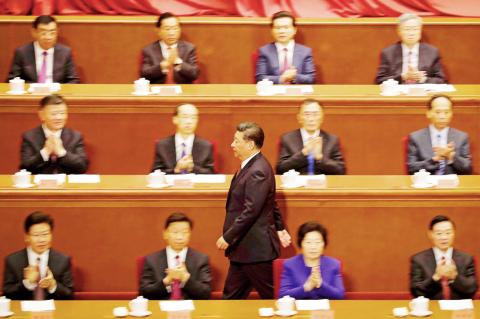 Delegates yesterday applaud as Chinese President Xi Jinping makes his way to the podium to deliver a speech at a ceremony in the Great Hall of the People in Beijing to commemorate the 90th anniversary of the founding of the People's Liberation Army.
Photo: AFP
Top Chinese leaders have consistently rejected calls to make the PLA loyal to the government and people instead.
"The people's army will resolutely safeguard the leadership of the Chinese Communist Party and our country's socialist system, resolutely safeguard national sovereignty, security and development interests, and resolutely safeguard regional and world peace," Xi said.
The speech followed a parade on Sunday at a training ground on the edge of the Gobi Desert in Inner Mongolia during which Xi donned fatigues and declared that the military has the "confidence and capability" to ensure China's sovereignty, security and national interests.
Xi, who commands the PLA as chairman of the Central Military Commission, has frequently spoken of his "China Dream" to restore China to a leadership position in international affairs with a modern, far-reaching military force to match.
In related news, China yesterday formally opened its first overseas military base with a flag-raising ceremony in Djibouti in the Horn of Africa.
China began construction of a logistics base in Djibouti last year. It will be used to resupply navy ships taking part in peacekeeping and humanitarian missions off the coasts of Yemen and Somalia, in particular. It is China's first overseas naval base, though Beijing officially describes it as a logistics facility.
State radio said more than 300 people attended the ceremony, including deputy Chinese naval commander Tian Zhong (田中) and Djibouti's defense minister.
Djibouti is at the southern entrance to the Red Sea on the route to the Suez Canal. It already hosts US, Japanese and French bases.
Additional reporting by Reuters
Comments will be moderated. Keep comments relevant to the article. Remarks containing abusive and obscene language, personal attacks of any kind or promotion will be removed and the user banned. Final decision will be at the discretion of the Taipei Times.