Taiwanese mourn Nobel laureate's passing
A commemorative event was held in Taipei last night to mourn the passing of Chinese Nobel Peace Prize laureate Liu Xiaobo (劉曉波) as politicians stressed the importance of democracy and human rights.
Liu, sentenced to 11 years in jail in 2009 for "inciting subversion of state power" after he helped write a petition entitled Charter 08, which called for sweeping political reforms, died on Thursday after battling liver cancer. He was 61.
The commemoration, held in Liberty Square, was initiated by the New School for Democracy, an institution chaired by exiled Chinese democracy activist Wang Dan (王丹).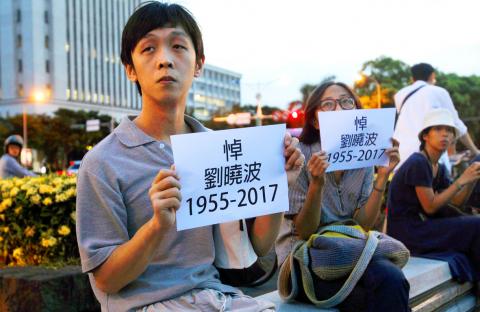 People hold cards that read "Mourning Liu Xiaobo 1955-2017" at a ceremony in honor of the late Nobel Peace Prize laureate at Liberty Square in Taipei yesterday.
Photo: Chiang Ying-ying, AP
The group called for Beijing to release all those imprisoned for speaking out against the Chinese Communist Party.
Earlier, Kaohsiung Mayor Chen Chu (陳菊) said it was sad to hear of Liu's passing, offering her condolences for Liu's 28 years of house arrest and imprisonment, adding that "only those who have been in jail can understand."
Chen herself served six years and two months in prison for her participation in the Formosa Incident, a pro-democracy demonstration organized by Formosa Magazine on Dec. 10, 1979.
"No one should be imprisoned for expressing a different view using any method," she said. "Liu's struggles and his adherence to his ideals reminds us that freedom and democracy do not fall out of the sky. Freedom and democracy cannot be retained without effort spent to safeguard it."
Taipei Mayor Ko Wen-je (柯文哲) said that China is constantly criticized by other nations for being "barbaric" and that it should endeavor to improve its human rights record.
"Should China be willing, Taiwan is an excellent example of a success story and we hope that Chinese, one day, will enjoy freedom and democracy," Ko said. "This is what [China] needs to work on."
Former president Ma Ying-jeou (馬英九) wrote on Facebook that while the world mourned the passing of Liu, China should seek to improve its record on freedom and human rights, both to live up to its position as a "great power" and the "Chinese dream."
Meanwhile, in response to President Tsai Ing-wen's (蔡英文) remarks on Thursday that Taiwan hoped China could show self-confidence and promote political reform following the death of the Nobel laureate, Beijing yesterday accused Tsai of aggravating tension across the Taiwan Strait.
China's Taiwan Affairs Office spokesman Ma Xiaoguang (馬曉光) was quoted by Xinhua news agency as saying that such "reckless" comments were "very dangerous" for cross-strait relations and were an example of Tsai's "repeated arbitrary attacks."
He said Tsai and the Democratic Progressive Party had "lifted the deceptive veil" of maintaining the "status quo" in cross-strait relations and that the repeated attacks were an attempt to regress ties to "tension and turbulence."
"Such behavior is very dangerous," he said, according to the Xinhua report, which was published only in English.
Additional reporting by Peng Wan-hsin and agencies
Comments will be moderated. Keep comments relevant to the article. Remarks containing abusive and obscene language, personal attacks of any kind or promotion will be removed and the user banned. Final decision will be at the discretion of the Taipei Times.