Missing HK activist said to be hiding in Taiwan
BAIL JUMPER? Reports said that Lee Chien-yi did not appear in court after being released on bail after her role in protests in a bid to stop evictions in Hong Kong
The National Immigration Agency yesterday said that an 18-year-old Hong Kong woman who allegedly jumped bail in the territory after being accused of offenses in last year's Mong Kok civil unrest has overstayed her visa by more than four months.
Lee Sin-yi (李倩怡) — who Hong Kong news Web site am730 on Thursday reported was in Taiwan on a tourist visa, but seeking asylum — was one of 91 people detained by Hong Kong police after the unrest over the Lunar New Year.
She was to attend her first court hearing on Jan. 17 at a district court after being released on bail, am730 reported.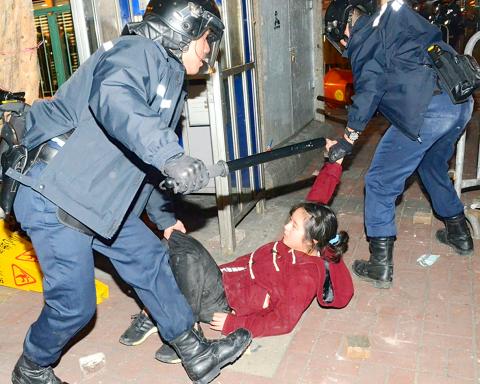 Protester Lee Chien-yi lies on the ground as Hong Kong police officers detain her during the Mong Kok civil unrest on Jan. 1 last year.
Screen grab from the Sing Tao Daily Web site, http://std.stheadline.com
However, the Chinese-language Headline Daily yesterday reported that Lee had allegedly fled the territory to seek asylum in Taiwan.
She was listed as a wanted person on Thursday last week after skipping her court hearing, it said.
The unrest erupted after the Hong Kong government sought to evict unlicensed food vendors from the Mong Kok area during the Lunar New Year holidays.
Protesters clashed with authorities in a bid to prevent the evictions.
Lee was charged with one count of assaulting a police officer and two counts of rioting.
The immigration agency said that Lee had passed through Taiwanese customs on Jan. 6, but there was no record that she had exited the country.
The Mainland Affairs Council on Thursday said that the government would observe all interactions with residents from Hong Kong and Macau as stipulated in the Act Governing Relations With Hong Kong and Macau (香港澳門關係條例).
The council said that it has not received a request for asylum from Lee.
The immigration agency would process Lee according to the regulations once she has been located, it said.
Hong Kong police yesterday declined to comment on the ongoing investigation.
Comments will be moderated. Keep comments relevant to the article. Remarks containing abusive and obscene language, personal attacks of any kind or promotion will be removed and the user banned. Final decision will be at the discretion of the Taipei Times.