New Taipei City gas blast injures 12
A gas explosion at a kitchen run by Shan An Co (膳安公司) — which specializes in producing food for new mothers under the brand name Yu Shan Fang (玉膳坊) — caused extensive damage and injured 12 people in New Taipei's Wugu District (五股) yesterday, investigators said.
New Taipei City Fire Department investigators said they found 20 liquefied natural gas (LNG) cylinders in the basement.
Nine of the 50kg canisters were connected to the kitchen upstairs and thought to be in use at the time of the explosion, investigators said, adding that two were empty, and the other nine had either been disconnected or turned off.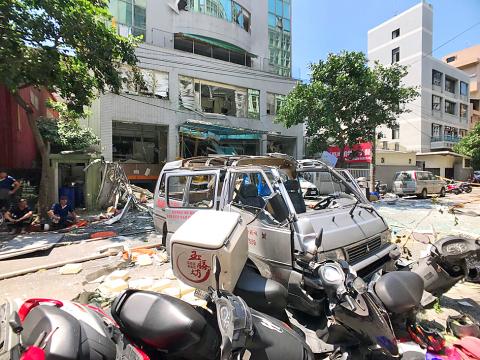 The area outside the Shan An food factory in New Taipei City's Wugu District is pictured following a gas explosion yesterday.
Photo: CNA
The company is suspected of refilling the cylinders without a business permit, fire department official Chen Chih-wei (陳志瑋) said.
"Filling and distribution of gas cylinders can only be done by licensed businesses. We plan to focus our investigation on whether the company hired workers to fill containers with gas for use in the basement," Chen said. "It is possible that valves or the pipes themselves leaked gas."
"If illegal operations have taken place, we will fine the company," he added.
Local media reports said that the company was able to store 900kg of LNGin the basement and it that had employed people to refill empty cylinders.
After the injured people were transported to nearby hospitals, investigators entered the basement, where they said they discovered an area of about 10m2 littered with gas cylinders and still ablaze.
A company employee reportedly told investigators that one of the cylinders was being refilled when a leak occurred and spark ignited an explosion.
Investigators were also reportedly trying to determine whether a gas leak might have resulted from a loose connector valve.
The injured people — five men and seven women — were taken to several hospitals in New Taipei City and Taipei, firefighters said.
A man in his 50s suffered 27 percent burns to his face, back and upper limbs and was rushed to New Taipei City Far Eastern Memorial Hospital, the firefighters said.
The man was in stable condition as of press time last night.
The other injuries were mostly lacerations, the firefighters said.
Additional reporting by CNA
Comments will be moderated. Keep comments relevant to the article. Remarks containing abusive and obscene language, personal attacks of any kind or promotion will be removed and the user banned. Final decision will be at the discretion of the Taipei Times.