Manila casino attack kills dozens
4 TAIWANESE KILLED: Philippine officials were adamant the incident was not terrorism, while in Taipei the government confirmed that four Taiwanese were among the 37 dead
A masked gunman yesterday set fire to a gaming room at a casino in Manila, igniting a toxic blaze that killed 37 people, authorities said, but they insisted it was not a terrorist attack.
The victims suffocated inside one of the main gambling venues of the upscale Resorts World Manila, while dozens of other people were injured in a panicked crush to escape, police said.
The gunman committed suicide inside a hotel room by immolating himself about five hours after storming the casino with an M4 assault rifle and a bottle of gasoline that he used to start the fire, Philippine National Police Director-General Ronald dela Rosa said.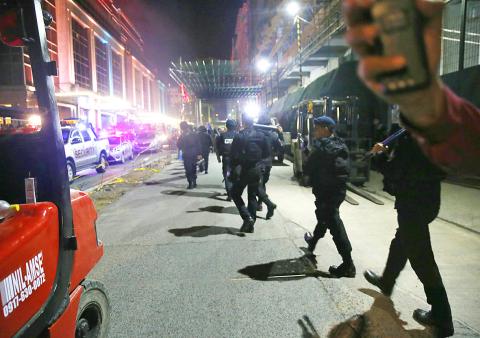 SWAT members of the Philippine National Police arrive at the Resorts World Manila complex early yesterday in suburban Pasay city southeast of Manila, Philippines. Gunshots and explosions rang out early yesterday at a mall, casino and hotel complex near Manila`s international airport in the Philippine capital.
Photo: AP
Dela Rosa and other police chiefs insisted the assailant was not carrying out a terrorist attack, pointing out that he did not shoot anyone, and said it appeared to be a bizarre robbery attempt by a "deranged" man.
"This is not an act of terror. There is no element of violence, threat or intimidation that leads to terrorism," Dela Rosa told reporters.
However, 37 people died from smoke inhalation after the fire spread quickly because of flammable carpet on the gaming room floors, local police chief Tomas Apolinario told reporters.
The Ministry of Foreign Affairs reported that four Taiwanese were among the dead.
The deaths were confirmed with local police by Taiwan's representative office in Manila, the ministry said, adding that it is in contact with the victims' families and is offering them travel assistance.
Representatives in the Philippines have formed a task force to handle other developments, the ministry said, adding that it has confirmed that no other Taiwanese were injured in the incident.
The gunman initially disappeared into the chaos of smoke and running people, leading to a five-hour manhunt through the complex, which also includes a hotel and shops, Dela Rosa said.
He said that the assailant, who appeared to be a foreigner because he spoke English and looked Caucasian, was found just before dawn in a hotel room after committing suicide.
"He lay down on the bed, covered himself with a thick blanket, apparently poured gasoline on the blanket and burned himself," Dela Rosa said.
Before the gunman had been killed and police had confirmed any motive, there was an unconfirmed claim of responsibility from the Islamic State group.
US President Donald Trump also branded it a "terrorist attack."
However, Philippine officials were adamant it was not related to terrorism.
"This particular situation in Manila is not related in any way to a terrorist attack," Philippine presidential spokesman Ernesto Abella told reporters.
Dela Rosa said the man, acting alone, walked into one of the gaming rooms and fired the rifle at a large TV, then poured gasoline onto a gambling table and set it alight.
He said the man then fired again at a stock room containing gambling chips and filled a backpack with chips worth 113 million pesos (US$2.28 million).
The man left the room and went upstairs to the hotel section, but left the backpack, Dela Rosa said, adding that 18 of 54 injured people had been hospitalized, while others sustained only minor injuries.
People inside the casino recounted a terrifying ordeal when the shooting broke out.
"I was about to return to the second floor from my break when I saw people running. Some hotel guests said someone yelled 'ISIS,'" Resorts World employee Maricel Navaro told DZMM radio, referring to one of many acronyms used to describe the Islamic State.
"When we smelled smoke, we decided to go for the exit in the parking lot. That's where we got out. Before we exited, we heard two gunshots and there was thick smoke on the ground floor," Navaro said.
Additional reporting by staff writer
Comments will be moderated. Keep comments relevant to the article. Remarks containing abusive and obscene language, personal attacks of any kind or promotion will be removed and the user banned. Final decision will be at the discretion of the Taipei Times.