WHA Action Team to protest in Geneva
FRIENDS: Twenty-one US senators signed a letter to the US secretary of health and human services to 'express profound concern' over Taiwan's exclusion from the WHA
The government would definitely express its anger and frustration to the WHO about not being invited to attend the annual World Health Assembly (WHA), Minister of Health and Welfare Chen Shih-chung (陳時中) said yesterday, adding that all protests would be conducted in a legal manner.
The WHA, the decisionmaking body of the WHO, is scheduled to meet in Geneva, Switzerland, from Monday to May 31.
The nation's delegation, the "WHA Action Team," is scheduled to depart for Geneva early tomorrow morning, Chen told a news conference in Taipei.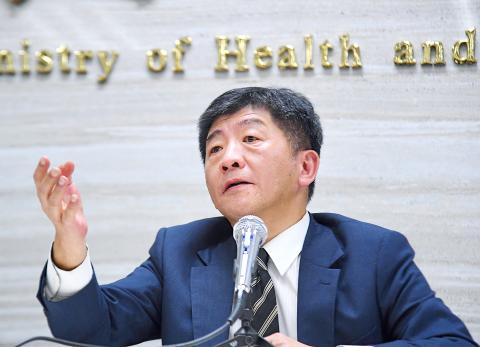 Minister of Health and Welfare Chen Shih-chung yesterday speaks at a news conference at the Ministry of Health and Welfare in Taipei.
Photo: CNA
Chen is the designated leader of the team and is being accompanied by key officials from the Ministry of Health and Welfare.
The Taiwan United Nations Alliance and Taiwan Youth Group, two local non-governmental organizations, would also have delegations in Geneva promoting Taiwan's attendance at the WHA, he said.
Based on the ministry's itinerary, the WHA Action Team is to arrive in Geneva at about noon tomorrow.
Bilateral meetings with Taiwan's allies and nations friendly to Taiwan are to begin on Sunday and continue until Thursday. In between the bilateral meetings with various nations, the WHA Action Team is to hold an international news conference at the Geneva Press Club on Monday morning.
The Taiwan United Nations Alliance's delegation is to host a Taiwan Night on Monday night, to which officials from nations supporting Taiwan's attendance at the WHA would be invited.
The official delegation is to leave Geneva on Friday next week.
Chen said his main task is to communicate with the WHO about the importance of Taiwan in global disease-prevention efforts and the necessity of Taiwan's participation at the WHA.
Taiwan has a lot to contribute, from the establishment of the National Health Insurance system that offers quality and affordable healthcare to its experience of combating the SARS outbreak in 2003, he said.
"We have also been included in the US Global Cooperation Training Framework because of our experiences handling contagious diseases. Now we have learned faster ways to identify patients who have contracted the Zika virus, dengue fever or Ebola," Chen said.
"Taiwan has evolved from a country that needs help from the WHO to one that can form partnerships with other countries, and has the ability to identify diseases and control their outbreaks," he said.
Separately, 21 US senators on Wednesday signed a letter to US Secretary of Health and Human Services Tom Price to "express profound concern" over Taiwan's exclusion from this year's WHA due to Chinese obstruction.
They also expressed the hope that the US "will renew its efforts, with like-minded countries, to affirm observer status for Taiwan at future WHAs, a policy held by the past two administrations."
The letter was also sent to US Secretary of State Rex Tillerson.
"As an American partner, and one of the most developed democracies and economies in the region, Taiwan has much to contribute to the WHA," the letter said. "Its advanced healthcare system and record of providing humanitarian relief underscore the importance of its inclusion in global health forums."
The letter also said that infectious diseases do not recognize international borders and the inclusion of all international parties is crucial to protecting global health — particularly given Taiwan's record of strong public health institutions.
"Neither Taiwan nor the international community is served by restricting Taiwan's access to timely information and important resources that protect public health," it said.
Taiwan first attended the WHA as an observer in 2009 and had taken part in every meeting since then, until this year.
Its exclusion is widely seen as the latest move by China to clamp down on Taiwan's international participation since President Tsai Ing-wen (蔡英文) came to power in May last year.
Comments will be moderated. Keep comments relevant to the article. Remarks containing abusive and obscene language, personal attacks of any kind or promotion will be removed and the user banned. Final decision will be at the discretion of the Taipei Times.