Russia denies al-Assad to blame for attack
Russia yesterday denied that Syrian President Bashar al-Assad was to blame for a poison gas attack and said it would continue to back him, setting the Kremlin on course for its biggest diplomatic collision yet with US President Donald Trump.
Western countries, including the US, blamed al-Assad's armed forces for a chemical attack that choked scores of people to death in the town of Khan Sheikhoun in a rebel-held area of northern Syria on Tuesday.
Washington said it believed the deaths were caused by sarin nerve gas dropped by Syrian aircraft, but Moscow offered an alternative explanation that would shield al-Assad: that the poison gas belonged to rebels and had leaked from an insurgent weapons depot hit by Syrian bombs.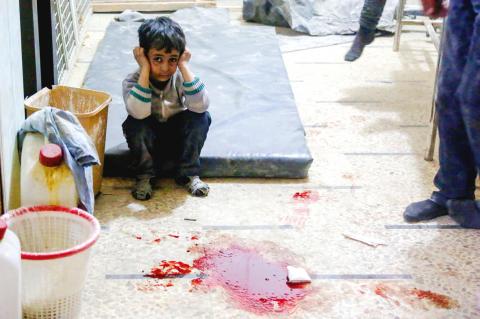 Anas, an injured child, waits to receive treatment next to a spot of blood from another injured child at a field hospital in rebel-held Douma, Syria, on Tuesday.
Photo: EPA
The US, Britain and France have proposed a draft UN Security Council resolution that would pin the blame on Damascus.
Kremlin spokesman Dmitry Peskov said Russia would argue its case blaming the rebels at the UN.
"Russia and its armed forces will continue their operations to support the anti-terrorist operations of Syria's armed forces to free the country," Peskov told reporters.
Video uploaded to social media showed civilians sprawled on the ground, some in convulsions, others lifeless. Rescue workers hose down the limp bodies of small children, trying to wash away chemicals. People wail and pound on the chests of victims.
The WHO said the symptoms were consistent with exposure to a nerve agent.
Hasan Haj Ali, commander of the Free Idlib Army rebel group, called the Russian statement blaming the rebels a "lie" and said rebels did not have the capability to produce nerve gas.
"Everyone saw the plane while it was bombing with gas," he said from northwestern Syria. "Likewise, all the civilians in the area know that there are no military positions there, or places for the manufacture [of weapons]."
The incident is the first time Washington has accused al-Assad of using sarin since 2013, when hundreds of people died in an attack on a Damascus suburb. At that time, Washington said al-Assad had crossed a "red line" set by then-US president Barack Obama.
Obama threatened an air campaign to topple al-Assad, but called it off at the last minute after the Syrian leader agreed to give up his chemical arsenal under a deal brokered by Moscow, a decision which Trump has long said proved Obama's weakness.
The new incident means Trump is faced with same dilemma that faced his predecessor: whether to openly challenge Moscow and risk deep involvement in a Middle East war by seeking to punish al-Assad for using banned weapons, or to compromise and accept the Syrian leader remaining in power at the risk of looking weak.
Trump described Tuesday's incident as "heinous actions by the Bashar al-Assad regime," but also faulted Obama for having failed to enforce the red line four years ago.
Obama's spokesman declined to comment.
Comments will be moderated. Keep comments relevant to the article. Remarks containing abusive and obscene language, personal attacks of any kind or promotion will be removed and the user banned. Final decision will be at the discretion of the Taipei Times.