MOFA to 'negotiate' with US on Diaoyutai remarks
The Ministry of Foreign Affairs (MOFA) yesterday said it would continue to negotiate with the US regarding Taiwan's sovereignty over the Diaoyutai Islands (釣魚台), after US Secretary of Defense James Mattis said during a visit to Tokyo that the disputed island chain falls under the auspices of a Japan-US security treaty.
The Diaoyutais, as affiliated islands of Taiwan, are under the jurisdiction of Yilan County and the Republic of China's (ROC) sovereignty over them is undisputed based on their location, historical evidence, geological composition and international law, ministry spokeswoman Eleanor Wang (王珮玲) said in a news release.
"Since 1971, the US has repeatedly reiterated that the transfer of administrative rights over the Diaoyutai Islands to Japan did not touch upon the sovereignty issue. Washington also formally notified us on May 26, 1971, that the transfer did not damage the ROC's relevant sovereignty claims," Wang said.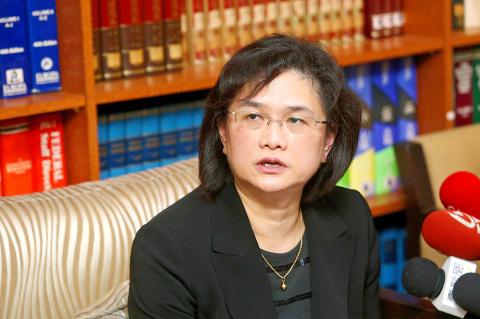 Ministry of Foreign Affairs spokeswoman Eleanor Wang talks to reporters at the ministry in Taipei on Dec. 22 last year.
Photo: CNA
The islands, known as the Senkaku Islands in Japan, have been under Tokyo's control since 1972, but are also claimed by Taipei and Beijing.
Debate over the archipelago was renewed after Japan nationalized three islets in 2012.
The ministry issued the remarks after Mattis reaffirmed the US' commitment to defending Japan under the Treaty of Mutual Cooperation and Security, which he said also applied to the Senkakus.
The US has maintained its neutrality on the issue and reiterated on multiple occasions that it would not take a stance on the ultimate sovereignty of the territory, Wang said.
The government remains firm in its stance that the international dispute caused by the Diaoyutai Islands should be solved peacefully based on the UN Charter and relevant international laws, she said.
"We will continue to communicate with the US and explain our sovereignty claims," she said, adding that the government remains committed to its pledge of being willing to engage in dialogue with concerned parties and help maintain regional peace.
Comments will be moderated. Keep comments relevant to the article. Remarks containing abusive and obscene language, personal attacks of any kind or promotion will be removed and the user banned. Final decision will be at the discretion of the Taipei Times.