Ortega backs global role for Taiwan
MUTUAL BENEFITS: The Nicaraguan president thanked Taiwan for its assistance and promised to fight for greater rights for the nation in the international arena
President Tsai Ing-wen (蔡英文) on Monday met Nicaraguan President Daniel Ortega in Managua, with the Central American leader reaffirming his nation's support for Taiwan's participation in UN-affiliated and other global organizations.
Ortega expressed his gratitude to Tsai and Taiwanese, saying Nicaragua has long benefited from mutual assistance, bilateral cooperation and growing trade between the two nations.
He said that at a recent summit in Nicaragua of Central American Integration System (SICA) leaders, he talked of his nation's commitment to strengthening ties with Taiwan.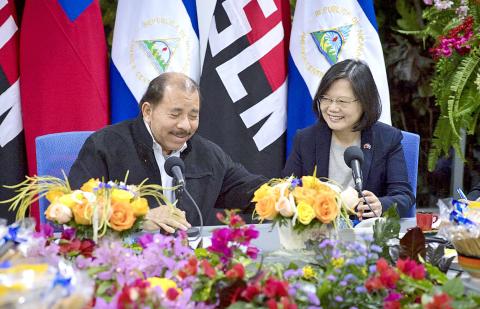 President Tsai Ing-wen, right, shares a lighter moment with Nicaraguan President Daniel Ortega in Managua on Monday.
Photo: CNA, courtesy of the Presidential Office
He told Tsai that Managua would continue to support Taiwan's participation in UN-affiliated and other global organizations related to humanitarian assistance, public health, education, culture, civil aviation safety, environmental protection and climate change.
"We will continue to fight for greater rights for Taiwan," he said.
Tsai replied that the support of the international community has helped Taiwan in its economic development and that Taiwan is willing to give back by helping other nations develop and improve the lives of their people.
She said the four Central American states that she is visiting are all long-time allies and Taiwan would do its best to help bring about rapid economic development in the region.
Tsai said she was pleased to be invited to Ortega's inauguration, so she could congratulate the Nicaraguan president on behalf of Taiwanese.
She also expressed the hope that her visit would help deepen the friendship between the two countries.
During the meeting, which was also attended by Nicaraguan Vice President Rosario Murillo, Tsai thanked Nicaragua and other Central American allies for their support of Taiwan's efforts to participate in the international community.
In a Facebook post after the meeting, Tsai wrote that she had invited Ortega to visit Taiwan and he had promised to consider it.
In response to Ortega's proposal to increase exchanges under a free-trade agreement, Tsai said Taiwan is transforming its economic structure and would welcome more bilateral exchanges and greater cooperation.
Tsai was yesterday scheduled to attend the inauguration of Ortega, who was re-elected in November to a third consecutive term.
Nicaragua is the second leg of Tsai's Central American tour, which also includes Honduras, Guatemala and El Salvador.
Tsai's meeting with Ortega shortly after her arrival in Managua was broadcast live on Nicaraguan television. The delegation of 35 Taiwanese reporters traveling with her were not invited to cover the meeting. The group only learned about the meeting when they saw the television broadcast at a local state-run channel.
Tsai's official itinerary, which was released to the Taiwanese media before she left Taiwan on Saturday, showed meetings with her counterparts in Honduras, Guatemala and El Salvador, but not Nicaragua, an omission that Presidential Office spokesman Alex Huang (黃重諺) said was deliberate to allow flexibility in terms of time.
Tsai's visit to Nicaragua is to end today, after which she is to fly to Guatemala and El Salvador before returning to Taiwan on Sunday, with a stopover in San Francisco.
Comments will be moderated. Keep comments relevant to the article. Remarks containing abusive and obscene language, personal attacks of any kind or promotion will be removed and the user banned. Final decision will be at the discretion of the Taipei Times.