KMT chairwoman apologizes over party infighting
HEART OF THE ISSUE The problem was not election dates, but a proposed merger that would dilute the representative power of a 90,000-member military veterans' branch
Chinese Nationalist Party (KMT) Chairwoman Hung Hsiu-chu (洪秀柱) yesterday apologized to supporters for the "disturbance" that the KMT's Central Standing Committee meeting last week has caused over a change made to the party's chairperson election date.
In yesterday's committee meeting, which was open to the media, there were no angry exchanges among party heavyweights and committee members as there had been in the past week, with many accusing the chairwoman of violating party regulations for her own ends.
On Wednesday last week, Hung reportedly railroaded a motion to move forward next year's chairperson election by two months by arbitrarily interpreting the definition of a meeting quorum, when more than 20 committee members allegedly boycotted the meeting.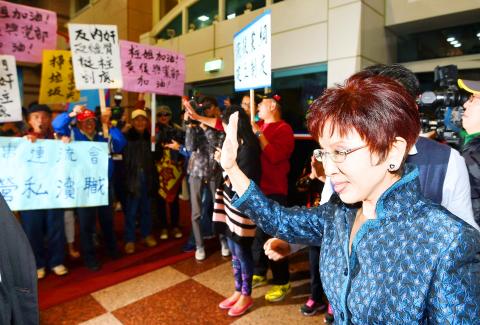 Chinese Nationalist Party (KMT) Chairwoman Hung Hsiu-chu yesterday waves to supporters after a KMT Central Standing Committee meeting at the party's headquarters in Taipei.
Photo: Fang Pin-chao, Taipei Times
The move has since sparked harsh criticism within the party, with committee member Yao Chiang-lin (姚江臨) filing a civil suit and KMT caucus convener Sufin Siluko (廖國棟) urging Hung to step down.
Hung yesterday said that as the party is facing multiple challenges, "there is no tomorrow if new breakthroughs cannot be made."
"Solidarity and reform" is not paying lip service and only sincere communication to reach a consensus would be good for the party," Hung said.
"There can be different views," she said, calling on the committee members to attend the meeting to avoid misunderstandings.
A reconsideration was proposed in yesterday's committee meeting for the motion passed on Wednesday last week, and while those who were against the motion, including Sufin and Yao, did not comment, they kept their hands down when others clapped their hands to celebrate the passage of the reconsideration.
Yao had said that he would withdraw the lawsuit if a consensus was reached yesterday, while Sufin denied that there was antagonism between he and Hung.
It was also announced in the meeting that the date for the party's election of representatives and chairperson would remain unchanged — May 20 — but the planned merger of the party's deep-blue Huang Fu-hsing (黃復興) military veterans' branch with the party representative election of general local party chapters was postponed until 2021.
The total number of representatives for next year's elections will be recalculated with more seats expected to be granted to the Huang Fu-hsing branch, KMT Secretary-General Mo Tien-hu (莫天虎) said.
Before yesterday's meeting, there had been no dispute over the election date, sources said, adding that the debate was over merging the Huang Fu-hsing branch elections with that of general local branches, which would mean that about 90,000 members of the Huang Fu-hsing branch would no longer voting in a separate election.
The military branch has long been seen as a stronghold for "deep-blue" and "pro-China" factions, and the merger would mean a "dilution" of the votes for the party's pro-localization faction.
Comments will be moderated. Keep comments relevant to the article. Remarks containing abusive and obscene language, personal attacks of any kind or promotion will be removed and the user banned. Final decision will be at the discretion of the Taipei Times.