Former defense official denied Singapore entry: report
Singapore has reportedly denied entry to Veterans Affairs Council Director Lee Shying-jow (李翔宙), who was on his way to visit veterans of the Republic of China (ROC) armed forces residing in Singapore, despite a tacit agreement that the visit had been approved, a media report said.
Representative to Singapore Liang Kuo-hsing (梁國興) could not be reached on his cellphone yesterday for comment.
Council officials did not deny the report, but they refused to comment on it.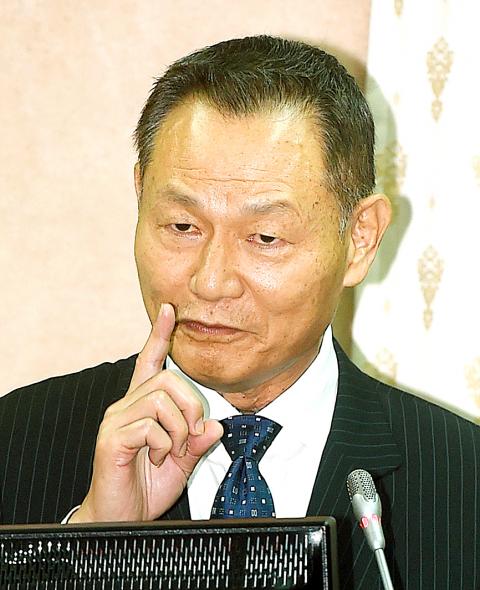 Veterans Affairs Council Director Lee Shying-jow gestures during a question-and-answer session at the Legislative Yuan in Taipei on Nov. 30.
Photo: Fang Pin-chao, Taipei Times
Lee, who was on his way to Thailand, had planned the stopover with the tacit approval of the Singaporean government, the report said.
Last month, Hong Kong customs authorities seized armored vehicles belonging to Singapore's military that arrived in the territory on their way back from Taiwan after a training exercise permitted by a defense agreement with Taiwan.
The report of Lee's denied entry and the Hong Kong incident have prompted concern that Beijing is pressuring Singapore over its ties with Taiwan.
Sources said Lee's high status — he once served as deputy minister of national defense, a commander of the ROC Army, director-general of the National Security Bureau and as a senior presidential adviser — might have prompted concern from Singapore or Beijing.
Lee's visit to Singapore was arranged after he was invited to attend a semi-official event in Thailand by the Thai royal family's agricultural foundation at the end of this month.
Lee said it was appropriate that he should visit Singapore on his way to Thailand, an unnamed official at the Veterans Affairs Council told online outlet Up Media.
Another purpose of Lee's visit to Thailand was to pay respects to the family of Sung Ching-yun (宋慶雲), a Taiwanese agricultural expert working in the kingdom who recently died there, Up Media quoted the official as saying.
The official said the council frequently assisted diplomatic efforts in the US by interacting with retired US military personnel, many of whom remained influential in military and intelligence circles or had since became politicians, according to Up Media.
Comments will be moderated. Keep comments relevant to the article. Remarks containing abusive and obscene language, personal attacks of any kind or promotion will be removed and the user banned. Final decision will be at the discretion of the Taipei Times.