Ex-officer held incommunicado in espionage probe
SENSITIVE DATA: Prosecutors said two lieutenant colonels were recruited by China after they retired, and that they passed on sensitive material to the Chinese officer in charge of espionage in Taiwan
Judges yesterday approved a request by the New Taipei City District Prosecutors' Office to detain incommunicado a retired lieutenant colonel who worked at the Ministry of National Defense's secretive Communication Development Office, one of four former military officers under investigation for espionage.
Investigators on Monday raided a number of offices and residences in New Taipei City and detained two retired lieutenant colonels, surnamed Lin (林) and Pien (邊), for questioning as suspects.
The prosecutors said Lin and Pien, who worked in highly sensitive military offices, were recruited by Chinese agents, and that both were found to have contact with China after their retirement.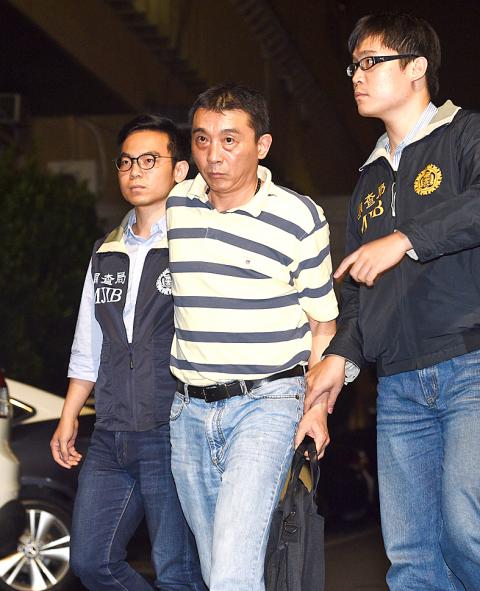 A retired lieutenant colonel, surnamed Pian, is escorted to the New Taipei City Prosecutors' Office by Special Investigation Bureau officers on Monday evening for questioning concerning secrets leaked to China.
Photo: Peter Lo, Taipei Times
New Taipei City Deputy Chief Prosecutor Chou Huai-lien (周懷廉) said Lin worked at the Chungshan Institute of Science and Technology's Systems Manufacturing Center, while Pien worked at the Communication Development Office, which is tasked with surveillance of China's military activities, including monitoring of telecommunications signals.
The men had been under surveillance for some time, Chou said, adding that authorities have sufficient evidence to charge them with violations of the National Security Act (國家安全法), including traveling to China to meet with a Chinese People's Liberation Army major general surnamed Wang (王), who is in charge of intelligence gathering and espionage operations against Taiwan.
Lin, Pien and other retired military officials who worked at sensitive defense facilities and intelligence agencies have been targets for recruitment by Chinese operatives, Chou said.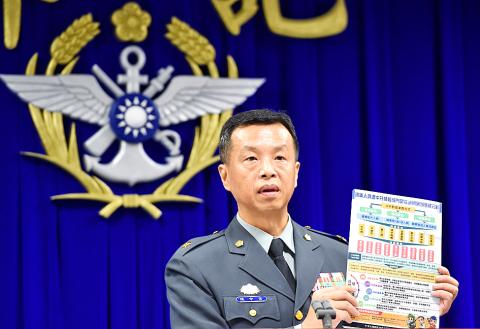 Ministry of National Defense spokesman Major General Chen Chung-chi holds up a document during a news conference in Taipei yesterday, saying that the ministry is giving its full cooperation to an investigation into alleged espionage by two retired lieutenant colonels.
Photo: Liu Hsin-de, Taipei Times
The investigation reportedly found that the two passed sensitive material to Wang from 2010 to last year in exchange for financial rewards.
They were also allegedly tasked with recruiting friends and other officers to develop spy networks to gather intelligence for China, Chou said.
Among those recruited were two air force colonels, surnamed Fan (范) and Yu (游), who were also taken in for questioning as witnesses.
Judges approved a request to detain Pien incommunicado, citing the likelihood of him attempting to flee the nation, collude with confederates or tamper with evidence, Chou said, adding that Lin was yesterday released following questioning after posting bail of NT$100,000.
Ministry spokesman Major General Chen Chung-chi (陳中吉) said the ministry does not know the full extent of leaked information, but added that the damage was limited.
"Once personnel retire, the ministry is unable to monitor their every movement and trips overseas," Chen said. "We are checking with other agencies regarding this case and will assess the extent of their espionage."
Comments will be moderated. Keep comments relevant to the article. Remarks containing abusive and obscene language, personal attacks of any kind or promotion will be removed and the user banned. Final decision will be at the discretion of the Taipei Times.