Typhoon Megi prompts sea warning
STORM CHASER: An aircraft will climb to an altitude of about 13km and conduct observations to better predict the typhoon's path, the Central Weather Bureau said
The Central Weather Bureau was scheduled to issue a sea alert for Typhoon Megi as of press time last night, as the storm gained power on its way toward eastern and southern Taiwan.
By 8pm yesterday, the center of the typhoon was 920km east-southeast of Taiwan proper, moving west-northwest at 16kph, packing winds up to 137kph.
The radius of the storm was 200km, the bureau said.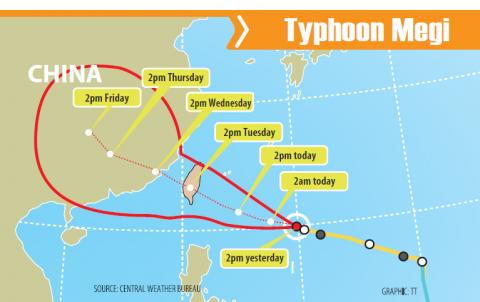 The sea alert was scheduled to issued at 11:30pm last night. Because of the approaching typhoon, the Maritime and Port Bureau said that several shipping route services would be canceled today, tomorrow and Wednesday.
A majority of the canceled shipping services are in eastern and southern Taiwan, including those between Taitung's Fugang Fishing Port and Green Island (綠島); between Houbi Lake (後壁湖) in Pingtung County's Hengchun Peninsula (恆春半島) and Orchid Island (Lanyu, 蘭嶼); and between Donggang (東港) in Pintung County and Siaoliouciou Island (小琉球).
Other canceled services are between Keelung and Matsu, Kaohsiung and Penghu, Taipei and Pingtan in China's Fujian Province and Matsu's Nangan (南竿) and Dongyin (東引島) islets.
Based on the bureau's projected path, Megi is likely to make landfall in the nation's southeast.
It is predicted to move across the nation and continue toward China, according to the bureau's analysis.
To better understand the typhoon's structure, the bureau said it will today activate the Dropsonde Observation for Typhoon Surveillance near the Taiwan Region project.
The jet used in the project is to climb to an altitude of about 13km and conduct observations in key spots along the path of the typhoon's movement, the bureau said, adding that the data would be transmitted back to the bureau via satellite.
The bureau said the information collected through the project can reduce the margin of error in its 72-hour forecast for the typhoon's path by about 6.5 percent.
Megi is a rare example of predictions provided by different weather forecast agencies around the world being consistent with one another, bureau Director-General Cheng Ming-dean (鄭明典) said on Facebook.
Other agencies have made only minor adjustments to their predictions of how the typhoon would move over the next few days, he wrote.
Former bureau director-general Daniel Wu (吳德榮) said it is still too early to say the exact location where the typhoon would make landfall.
Wu said the interaction between the typhoon and Taiwan's terrain would also skew the typhoon's path before its eye makes landfall, making its movement difficult to predict.
Comments will be moderated. Keep comments relevant to the article. Remarks containing abusive and obscene language, personal attacks of any kind or promotion will be removed and the user banned. Final decision will be at the discretion of the Taipei Times.