'Pokemon Go' makes splash in Taiwan
WARNING: Government agencies said people playing the augmented-reality game face fines for actions that might arise from wandering without regard for surroundings
Pokemon Go, a hit mobile game worldwide, became available in Taiwan yesterday, with government authorities warning people to be aware of traffic rules and exercise prudence when playing the game.
The free-to-play, location-based augmented-reality game's arrival made the nation the third site in Asia to experience virtual creature-catching after Hong Kong and Japan.
Gamers can download the Pokemon Go app to catch more than 100 virtual monsters, including Pikachu and Squirtle, the most familiar creatures in Taiwan, on streets, in parks and wherever they appear.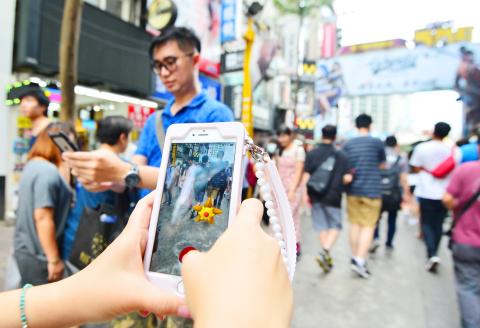 A person plays Pokemon Go in Taipei yesterday.
Photo: Wang Yi-sung, Taipei Times
The game, a result of cooperation between Niantic Inc, Nintendo Co and The Pokemon Co, was initially released in select nations last month.
Players use a mobile device's GPS capability to locate virtual monsters and capture, train and battle them.
One Taiwanese netizen said he got up earlier than usual yesterday morning to catch monsters, while others said they wanted to skip work to join the global fad immediately.
Players could only download an English-language version of Pokemon Go. Many netizens asked why the game did not provide players in Taiwan with a Chinese-language version.
Others complained that they encountered technical glitches, dampening their enthusiasm.
Players have been reminded to stay alert on the streets, as they might walk into pedestrians or vehicles if they do not pay attention.
The Ministry of Transportation and Communications said the public should be mindful that use of cellphones, tablet computers and other hand-held devices that affect driving safety can bring a fine of NT$3,000, according to the Act Governing Punishments for Violations of Road Traffic Regulations (道路交通管理處罰條例).
Scooter or motorcycle riders face fines of NT$1,000 if they are found using mobile devices while riding, the ministry said, adding that bicycle riders are also among those regulated and could face a fine between NT$300 and NT$600.
The Taipei City Police Department's Traffic Division said that if pedestrians using mobile phones affect traffic at peak times, they could face a fine of NT$300.
According to the Taiwan Railways Administration (TRA), within an hour of the game becoming available there were people hunting the digital creatures along railway lines.
The TRA said that people found obstructing station entrances, ticket checkpoints, ticket vending machines, escalators or other passageways face fines between NT$1,500 and NT$7,500 according to the Railway Act (鐵路法).
The Bureau of High Speed Rail also warned against playing the game while on platforms, as people might inadvertently fall from the platform or bump others.
Legal experts said that while Pokemon Go creatures might be displayed in private residences, trespassing is a crime.
The Ministry of National Defense called on people to watch where they are going and refrain from inadvertently wandering into military camps or other restricted areas.
The Water Resources Agency said that while it has yet to hear of Pokemon creatures being found near reservoirs, the terrain around reservoirs is mostly not flat and there are many barriers and fences.
The agency called on the public to exercise self-restraint and not climb fences or walls to play the game, warning people to watch where they are going to prevent accidents.
Police in many nations where the game is available have issued warnings about inattentive driving, trespassing and being targeted by criminals due to lack of awareness of one's surroundings while playing the game.
Comments will be moderated. Keep comments relevant to the article. Remarks containing abusive and obscene language, personal attacks of any kind or promotion will be removed and the user banned. Final decision will be at the discretion of the Taipei Times.