Su coined 'consensus': Burghardt
The term "1992 consensus" was non-existent until 2000, when then-Mainland Affairs Commission chairman Su Chi (蘇起) first used it, American Institute in Taiwan (AIT) Chairman Raymond Burghardt said.
Burghardt made the remarks in an interview with Voice of America in Washington on Wednesday when he was asked about the historical background of the so-called "1992 consensus," as he was formerly the US consul-general in Shanghai.
"I think everyone in China knows, the term '1992 consensus' was not used by anyone until 2001, no, 2000; Su Chi, [former] president Ma Jing-jeou's [馬英九] first National Security Council adviser, was the first person to use that term to describe the understanding that had been reached in 1992. Before that, I mean, in all the time I met with [then-Association for Relations Across the Taiwan Straits (ARATS) chairman] Wang Daohan (汪道涵) or with [then-Straits Exchange Foundation (SEF) chairman] Koo Chen-fu (辜振甫), they never called it that, never called it the '1992 consensus,' because the name didn't exist. Koo would sometimes just call it the '1992 understanding,'" he said.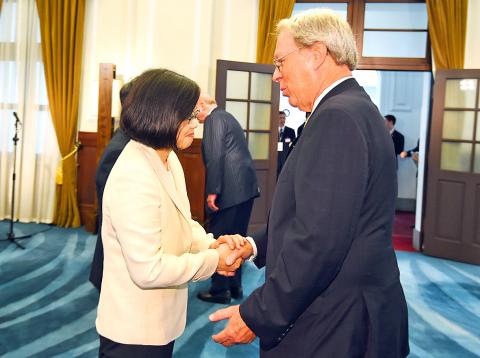 President Tsai Ing-wen, left, shakes hands with American Institute in Taiwan (AIT) Chairman Raymond Burghardt on May 20.
Photo provided by Taipei Photojournalists Association
The "1992 consensus" refers to a tacit understanding between the two sides of the Taiwan Strait that there is "one China," with each side having its own interpretation of what "China" means.
In 2006, Su, then a Chinese Nationalist Party (KMT) legislator, admitted he made up the term "1992 consensus" in 2000, before the KMT handed power to the Democratic Progressive Party.
Meanwhile, responding to the question of whether President Tsai Ing-wen (蔡英文) was muddying the water when she did not explicitly recognize or deny the "1992 consensus" or the "one China" principle in her inauguration address, Burghardt said Tsai has displayed flexibility in dealing with cross-strait relations and it is important for both China and Taiwan to continue to communicate.
He also said it is important for both sides to "create a certain amount of ambiguity," adding that there was a lot of ambiguity in the understanding reached between the Ma administration and China.
Burghardt said this is an important period for both Beijing and Taipei to carefully watch each other's actions and statements.
However, he also said it is very important for both sides to "keep an open mind" and maintain communication.
Burghardt said that one of the things the US prized very much after Ma took office in May 2008 was the "restoration of regular communication across the Strait."
He said that if both sides can talk to each other, miscommunication, misunderstanding and miscalculation "can all be avoided."
Asked whether cross-strait relations are not as warm as during the Ma administration, Burghardt said that "it is unfortunate that Beijing decided to discontinue or suspend talks" between the two sides recently.
He expressed hope that Beijing can understand the importance of cross-strait communication and will want to continue, as "nothing is going to be fixed without continued communication."
Comments will be moderated. Keep comments relevant to the article. Remarks containing abusive and obscene language, personal attacks of any kind or promotion will be removed and the user banned. Final decision will be at the discretion of the Taipei Times.