Hsieh promises to deepen ties with Japan
Former premier Frank Hsieh (謝長廷) yesterday said he would carry out President Tsai Ing-wen's (蔡英文) directive of deepening ties with Japan, as he left for Tokyo to report for his new post as the nation's representative to Tokyo.
Hsieh arrived at Taipei International Airport (Songshan airport) yesterday morning in the company of dozens of friends and colleagues, including Executive Yuan spokesman Tung Chen-yuan (童振源), as well as Democratic Progressive Party (DPP) legislators Kuan Bi-ling (管碧玲) and Pasuya Yao (姚文智), who were there to see him off.
Asked what Tsai's expectations of him are, Hsieh said the president instructed him to take good care of the relationship between Taiwan and Japan, as the two nations have enjoyed historically close ties.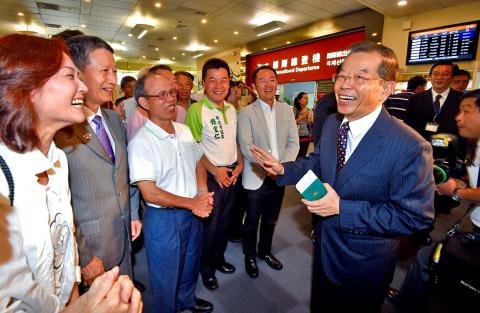 Former premier Frank Hsieh, right, yesterday bids farewell to his friends and colleagues at Taipei International Airport before traveling to Tokyo.
Photo: Lo Pei-der, Taipei Times
"Due to disaster relief and rescue missions in the past few years, [our bilateral ties] have seen a benign cycle, where we rush to the rescue of Japanese when there is a disaster in their country and vice versa," Hsieh said.
Taipei and Tokyo have created an excellent mutual-assistance model that ought to be spread to the entire world, Hsieh said, adding that Tsai wants him to further deepen and strengthen the two nations' bilateral ties based on an already solid foundation.
Hsieh, who served as premier under former president Chen Shui-bian's (陳水扁) administration from 2005 to 2006, is the first former premier to serve as the nation's representative to Japan.
Hsieh has a bachelor's degree in law from National Taiwan University and a master's degree in legal philosophy from Kyoto University in Japan. He went on to pursue a doctoral degree in the same field at Kyoto University, but only managed to finish all the course work when he decided to return to Taiwan after his father was diagnosed with liver cancer.
Hsieh also served as DPP chairman and Kaohsiung mayor for two terms.
Taipei-Tokyo ties have been strained after the Japan Coast Guard's seizure of a Taiwanese fishing boat, the Tung Sheng Chi No. 16, on April 25 while operating in waters about 150 nautical miles (228km) from the Okinotori atoll, which Tokyo regards as an island, claiming a 200-nautical-mile exclusive economic zone around it.
Hsieh said that after handing in his credentials to Tokyo, he is due to fly to Japan's Kumamoto Prefecture today to meet with Kaohsiung Mayor Chen Chu (陳菊) and Tainan Mayor William Lai (賴清德).
Chen and Lai are to leave for Kumamoto today to donate money they have raised for relief efforts in the prefecture, which was struck by a magnitude 7.3 earthquake in April, and to reactivate exchanges between the two sides that have been put on hold due to the temblor.
Comments will be moderated. Keep comments relevant to the article. Remarks containing abusive and obscene language, personal attacks of any kind or promotion will be removed and the user banned. Final decision will be at the discretion of the Taipei Times.