Increase military spending, US says
'OBVIOUS IMBALANCE': A US official urged Taiwan to invest in asymmetric and innovative capabilities and concepts to account for a natural disparity in size
Preparing a contingency plan to prevent formal Taiwanese independence remains a priority for China's People's Liberation Army (PLA), and Taiwan needs to step up its military investments to defend itself against China's increasing military presence, despite a supposed improvement in cross-strait relations after the historic meeting between President Ma Ying-jeou (馬英九) and Chinese president Xi Jinping (習近平) in November last year, the US Department of Defense said yesterday.
In its annual report on military and security developments involving the People's Republic of China (PRC), released yesterday, the department cited China's defense white paper for last year, in which China warned against "Taiwanese separatist independence forces."
According to the report, China said that should the clamor for Taiwanese independence intensify, it would call upon the PLA to compel Taiwan to abandon moves toward independence or unify Taiwan with China by force, while simultaneously delaying, deterring or denying any third-party intervention on Taiwan's behalf.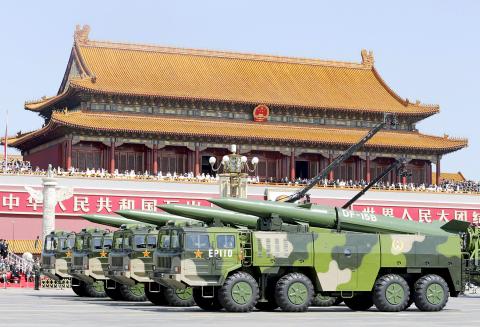 Military vehicles carrying DF-15B short-range ballistic missiles drive past the Tiananmen Gate during a military parade to mark the 70th anniversary of the end of World War Two, in Beijing, China, September 3, 2015.
Photo: Reuters
Although contingencies in the East China and South China seas and on the Korean Peninsula are increasingly important to China, "the PRC continues to focus on preparing for potential conflict in the Taiwan Strait," the report said.
It also mentioned the potential effect president-elect Tsai Ing-wen's (蔡英文) reluctance to acknowledge the so-called "1992 consensus" could have on maintaining peace across the Taiwan Strait.
"Following Taiwan's January 2016 presidential and legislative elections, China has stressed that denying the '1992 consensus' would make peace and development impossible," the report said.
"President Tsai Ing-wen of the Democratic Progressive Party has pledged to maintain the 'status quo' in cross-strait relations, but has not endorsed Beijing's interpretation of the '1992 consensus.' Her position differs with the approach of the outgoing Kuomintang Party [Chinese Nationalist Party (KMT)]," it said.
The "1992 consensus," is a term former Mainland Affairs Council chairman Su Chi (蘇起) admitted making up in 2000 that refers to a tacit understanding between the KMT and China that both sides of the Taiwan Strait acknowledge there is only "one China," with each side having its own interpretation of what "China" means.
In defense budgets planned last year by the governments on both sides of the Strait, China allocated US$144 billion, while Taiwan's budget was US$9.9 billion, the report said.
"China's officially-disclosed military budget grew at an average of 9.8 percent per year in inflation-adjusted terms from 2006 through 2015, and Chinese leaders seem committed to sustaining defense spending growth for the foreseeable future, even as China's economic growth decelerates," it said.
Despite positive developments last year, such as the meeting between Ma and Xi — the first meeting between the heads of state on both sides of the Strait since 1946 — there have been no signs that China's military posture toward Taiwan has changed significantly, it said.
At a news conference in Washington held on the same day, US Deputy Assistant Secretary of Defense for East Asia Abraham Denmark urged Taiwan to increase its defense budget.
"We have encouraged Taiwan to continue to increase its defense spending, and to invest in asymmetric and innovative capabilities and concepts," Denmark said. "Because of the obvious and unavoidable imbalance in the sheer size of the two sides ... we believe that Taiwan does need to increase its spending, but also needs to make investments in asymmetric capabilities that would account for that natural disparity in size."
Comments will be moderated. Keep comments relevant to the article. Remarks containing abusive and obscene language, personal attacks of any kind or promotion will be removed and the user banned. Final decision will be at the discretion of the Taipei Times.