Premier-designate presents final Cabinet picks
Premier-designate Lin Chuan (林全) yesterday announced the final members of his Cabinet, surprising many with his choice of National Taiwan University law professor Yeh Jiunn-rong (葉俊榮) to be minister of the interior.
At a news conference at Democratic Progressive Party (DPP) headquarters in Taipei, Lin introduced his final five picks — Hochen Tan (賀陳旦) for minister of transportation and communications, Lee Shying-jow (李翔宙) to head the Veterans Affairs Council, Lee Chung-wei (李仲威) to head the Coast Guard Administration (CGA), Hsieh Shou-shing (謝曉星) to be the Atomic Energy Council minister and Yeh.
Yeh, who is in the US on an academic trip, was the only one not to attend the news conference.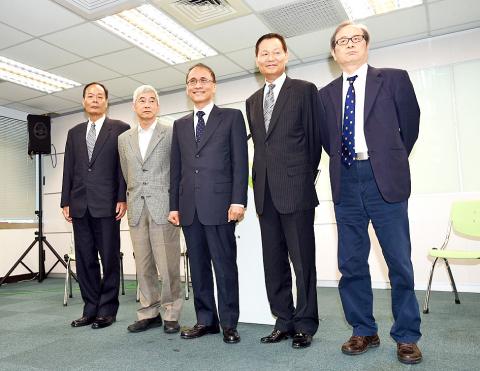 Premier-designate Lin Chuan, center, attends a news conference in Taipei with four of his five final Cabinet selections, from left to right, Lee Chung-wei, Hochen Tan, Lee Shying-jow and Hsieh Shou-shing.
Photo: Lo Pei-der, Taipei Times
Yeh's appointment came as a surprise, as media outlets had touted several other candidates — including Taipei City Deputy Mayor Charles Lin (林欽榮), Yilan County Deputy Commissioner Wu Tze-cheng (吳澤成), Tainan Deputy Mayor Tseng Shu-cheng (曾旭正) and former Tainan mayor Hsu Tain-tsair (許添財) — but not Yeh.
"When thinking about who should serve as minister of the interior, we thought about Yeh at the beginning, but he declined," Lin Chuan said. "We went on and looked for other candidates, but still came back to Yeh."
He said Yeh was a suitable choice because he is not only a legal expert who specializes in constitutional issues and the environment, he has also served on a number of government positions and is familiar with administrative reform, sunshine bills, environmental issues and territorial planning.
"I believe that he is more than capable of doing the job well," Lin Chuan said.
However, he said that he had a hard time convincing Yeh to accept the appointment, he finally succeeded to do so two days ago.
Hochen too was unwilling to accept the position at first.
"I tried to convince him many times but failed, until someone eventually successfully did it," Lin said. "I really admired the person who did it, because I couldn't do it even [Hochen and I] have been friends for a long time."
"But I can't tell you who the person is," Lin added.
Lee Chung-wei's appointment was also seen as a surprise, as the retired navy deputy commander would be the first CGA director-general to have a career military background. The post has usually been held by someone with a police background.
The CGA must defend Taiwan's territorial waters, so Lee Chung-wei's experience would help the agency, Lin Chuan said.
Comments will be moderated. Keep comments relevant to the article. Remarks containing abusive and obscene language, personal attacks of any kind or promotion will be removed and the user banned. Final decision will be at the discretion of the Taipei Times.