Government gives up AIIB application for 'dignity'
Minister of Finance Chang Sheng-ford (張盛和) said yesterday that Taiwan would no longer apply to participate in the China-initiated Asian Infrastructure Investment Bank (AIIB) because the nation is not being treated with dignity and equality.
"The matter will be left for the new administration to decide," Chang said in a telephone interview with reporters, referring to the administration of president-elect Tsai Ing-wen (蔡英文), which is to take office on May 20.
Chang said the ministry sent a letter to the Interim Secretariat for Establishing the AIIB in March last year expressing Taiwan's wish to become a founding member of the bank, but the bid was rejected.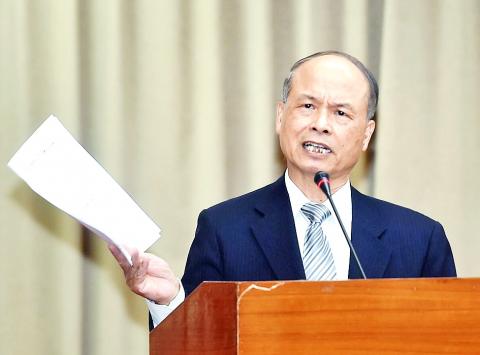 Minister of Finance Chang Sheng-ford speaks at a Finance Committee session at the Legislative Yuan on Thursday.
Photo: Fang Pin-chao, Taipei Times
Chinese President Xi Jinping (習近平) later said several times that China welcomed Taiwan's participation in the AIIB under an appropriate name, but he never specified what Beijing considered "appropriate."
After the AIIB was formally inaugurated in January, Chang sent a congratulatory message to AIIB president Jin Liqun (金立群) and asked whether Taiwan needed to apply again, but he received no response.
Since Tsai was elected on Jan. 16, Jin has repeatedly described Taiwan's AIIB bid as a "family matter" and has insisted that Taiwan is not a sovereign state, so should follow the Hong Kong model and ask the Chinese Ministry of Finance to apply for Taiwan's membership on its behalf in accordance with the AIIB charter.
"We cannot accept such a model," Chang said, adding that the ministry would no longer apply for membership because Taiwan cannot join the AIIB under conditions of dignity and equality.
However, this does not mean the "end of the AIIB bid," which hinges on the attitude of China going forward, he said.
Asked if Jin's attitude was related to the Democratic Progressive Party winning power in Taiwan, Chang did not comment, but he stressed that Taiwan would not accept participation in the AIIB based on the Hong Kong model.
A Ministry of Finance official yesterday said that Taiwan's bottom line is to join the AIIB under the name "Chinese Taipei" — under the terms of a bipartisan agreement reached last year — and Jin's demand that the nation musty apply through the Chinese Ministry of Finance had hurt Taiwan's dignity.
However, the official also said that if China was willing to let Taiwan apply to join in its capacity as an Asian Development Bank member, then it would be able to discuss the possibility of joining the bank.
"The designation is important. We cannot be denigrated," the official said.
Chung-Hua Institution for Economic Research (CIER, 中華經濟研究) president Wu Chung-shu (吳中書) said AIIB membership is intended to expand investment channels for local firms, but must not be used to downgrade the nation's sovereignty.
There is still room for cooperation if the two sides can work out differences over AIIB accession requirements, Wu said.
Richard Watanabe (吳偉臺), financial service leader at PricewaterhoueCoopers Taiwan, said AIIB membership has little bearing on Taiwan, as local firms are not ready for international construction projects.
Additional reporting by Crystal Hsu
Comments will be moderated. Keep comments relevant to the article. Remarks containing abusive and obscene language, personal attacks of any kind or promotion will be removed and the user banned. Final decision will be at the discretion of the Taipei Times.