Academia Sinica boss Wong Chi-huey ordered home
'PROFOUNDLY DISTURBING': The Academia Sinica president has been accused of possible insider trading after he endorsed a cancer drug that later failed a trial
A legislative committee yesterday adopted a resolution demanding that Academia Sinica President Wong Chi-huey (翁啟惠) return to Taiwan from the US as soon as possible to clear up a controversy in connection with alleged insider trading of a pharmaceutical company's shares.
If Wong cannot return to Taiwan immediately, he should submit a written report to the Legislative Yuan's Education and Culture Committee within one week, the resolution said.
He is required to deliver an oral report to the committee within one week of his return, it added.
Academia Sinica President Wong Chi-huey answers questions in an undated photograph.
Photo: Chu Pei-hsiung, Taipei Times
Wong, who is in the US for academic activities, had earlier said that he would return to Taiwan to attend a hearing on the case scheduled for yesterday.
On Tuesday, he called President Ma Ying-jeou (馬英九) to express his intention to resign from his post as head of the nation's highest academic institution, citing health reasons, and tendered his written resignation on Wednesday.
Ma rejected Wong's resignation and instructed him to return to Taiwan as soon as possible to report to him and the legislature, according to Presidential Office spokesman Charles Chen (陳以信).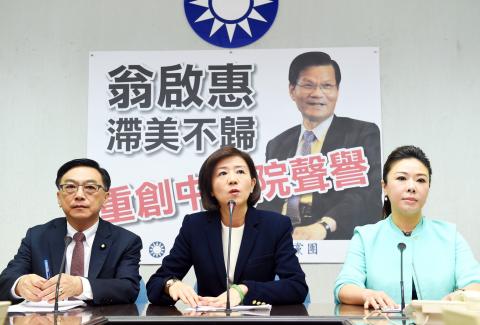 Chinese Nationalist Party (KMT) Legislator Alicia Wang, center, speaks during a press conference in the Legislative Yuan yesterday calling on Academia Sinica President Wong Chi-huey to return to Taiwan from the US.
Photo: Chien Jung-fong, Taipei Times
Academia Sinica is under the direct administrative supervision of the Presidential Office.
The controversy flared up following Wong's endorsement of a new cancer drug by publicly listed biotech company OBI Pharma Inc (台灣浩鼎), even though the company announced on Feb. 21 that the drug had failed second and third-round clinical trials, news that sent the company's stock price plunging.
Wong is a biochemist considered to be an expert on the theory behind OBI Pharma's cancer drug.
On March 3, Wong issued a statement through Academia Sinica that he did not hold any shares in Taiwan's biotech companies.
However, Next Magazine reported on Wednesday last week that Wong's daughter, Wong Yu-shioh (翁郁秀), obtained 3 million OBI Pharma shares in 2012 at the price of NT$31 per share before it was listed on the emerging stock market.
The company was listed on the over-the-counter market at NT$310 per share the following year.
The revelation fueled accusations against Wong Chi-huey of a conflict of interests and possible insider trading.
An initial investigation found that Wong Yu-shioh sold more than 10,000 of her OBI Pharma shares three months before the announcement of the cancer drug's trial failure.
Wong Chi-huey yesterday penned a letter addressed to his Academia Sinica colleagues.
"My personal affairs have lately became the subject of public controversy, with an impact on our institution's reputation that is profoundly disturbing to me. I am currently abroad and physically indisposed, and I am therefore unable to attend our March 30 report to the Legislative Yuan," he said in the letter. "I had tendered my resignation to the president and will, upon concluding my affairs abroad, immediately return [to Taiwan] to make an explanation [about this affair]."
"I will continue in the future to dedicate my professional knowledge to science and biotechnological research in Taiwan," he added.
Comments will be moderated. Keep comments relevant to the article. Remarks containing abusive and obscene language, personal attacks of any kind or promotion will be removed and the user banned. Final decision will be at the discretion of the Taipei Times.