Ma, Tsai meet behind closed doors
President Ma Ying-jeou (馬英九) yesterday met with president-elect Tsai Ing-wen (蔡英文) to exchange opinions on an array of national issues in their first formal meeting since January's presidential election, with both sides calling for cooperation and a smooth transfer of power.
Wearing a light-blue tie, Ma arrived at the Taipei Guest House — which is mostly used by the government to receive state guests or hold celebrations — at about 9:52am, eight minutes before his scheduled meeting with Tsai at 10am.
While waiting for the president-elect's arrival, Ma inspected the meeting room with Presidential Office Secretary-General Tseng Yung-chuan (曾永權), Presidential Office Deputy Secretary-General Hsiao Hsu-tsen (蕭旭岑) and Presidential Office spokesman Charles Chen (陳以信).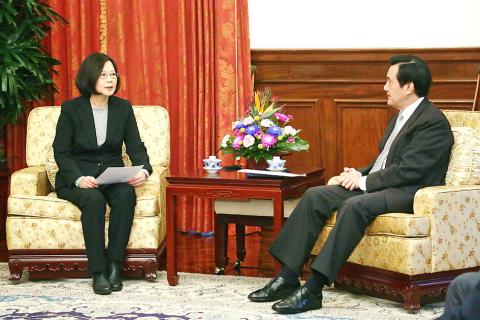 President Ma Ying-jeou, right, and president-elect Tsai Ing-wen yesterday talk during their meeting at the Taipei Guest House.
Photo: EPA / Presidential Office
Tsai arrived at about 9:57am alongside Democratic Progressive Party (DPP) Secretary-General Joseph Wu (吳釗燮), DPP Deputy Secretary-General Jason Liu (劉建忻) and DPP Department of News and Information director Alex Huang (黃重諺). They were received by Tseng at the entrance.
In his opening remarks before the meeting, Ma congratulated Tsai and the DPP for their victories in the Jan. 16 presidential and legislative elections, which he said saw the election of the nation's first female president and the third transfer of power in the nation.
Calling for "genuine cross-party rapprochement and cooperation," Ma said different parties should take advantage of the current amicable atmosphere and the opportunity for communication presented during the handover period, seeking to hammer out consensus through dialogue.
"I am truly grateful to Taiwanese for giving me the opportunity to serve my nation over the past eight years and to build a just, free, prosperous and peaceful Taiwan," Ma said.
"Now we are going to hand over the baton to [DPP] Chairperson Tsai," he said, adding that he hopes the transfer of power would be smooth and seamless.
In response to the DPP's attempts to push for an act governing transfers of power, the president said he supports any legislation that regulates the transfer of presidential power "within the scope of the Constitution."
The Chinese Nationalist Party (KMT) caucus has said the DPP's draft transfer of power act is unconstitutional, citing many clauses that it said could restrict the mandate of an outgoing president.
Expressing gratitude that the Presidential Office was able to arrange yesterday's meeting swiftly after receiving her request, Tsai said she hopes the outgoing and incoming administrations could put aside their "offenses and defenses" during election campaigns and work to ensure a smooth handover of power.
"Our meeting today is significant for three reasons," Tsai said.
The first one is democracy, which allows us to hand over power smoothly, Tsai said, adding that democracy is not only the most vital value in Taiwanese society, but also the most important national asset for future generations.
The second reason is responsibility, as the more than four-month-long caretaker period poses a challenge to the nation, she said.
The third reason is cooperation, Tsai said, adding that people aspired to see the possibility of political leaders working together and sitting down to jointly resolve major social problems.
Ma and Tsai then went behind closed doors for their meeting, which lasted about 75 minutes.
The meeting concluded with a minute-long handshake between the president and the president-elect.
Comments will be moderated. Keep comments relevant to the article. Remarks containing abusive and obscene language, personal attacks of any kind or promotion will be removed and the user banned. Final decision will be at the discretion of the Taipei Times.