Tsai to stay on as DPP leader
DOUBLING UP: Legislator Kuan Bi-ling proposed that Tsai continue to head the party after she becomes president and other Central Standing Committee members agreed
President-elect Tsai Ing-wen (蔡英文) yesterday confirmed that she is to double as Democratic Progressive Party (DPP) chairperson after she is inaugurated on May 20.
During a meeting of the DPP Central Executive Committee yesterday, DPP Legislator Kuan Bi-ling (管碧玲) proposed a motion that Tsai should be the leader of both the party and the nation to facilitate communication between the next administration and the party.
Legislator Chen Ming-wen (陳明文), the convener of the DPP's party constitution research and editing team, said that Kuan made the proposal after a discussion of amendments to the DPP's constitution, and it received wide support from committee members.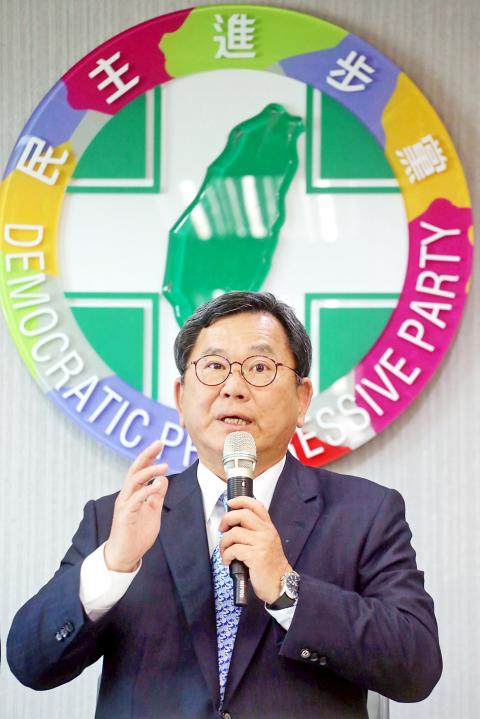 Democratic Progressive Party (DPP) Legislator Chen Ming-wen yesterday tells reporters at party headquarters in Taipei that president-elect Tsai Ing-wen will continue to serve as DPP chairperson after her inauguration on May 20.
Photo: CNA
Chen said the party charter states that the nation's president could also serve as party chairperson, so the issue had not been discussed during the meeting.
DPP spokesperson Ruan Jhao-syong (阮昭雄) told a post-meeting news conference that Tsai had not given much response after several research team members seconded Kuan's proposal.
DPP Legislator Chen Ting-fei (陳亭妃) welcomed the motion, saying that many party members from her Tainan constituency had said that they hoped Tsai would hold the two posts simultaneously.
Taoyuan Mayor Cheng Wen-tsan (鄭文燦) agreed, saying that if Tsai remained DPP leader, the party could be the backing of the administration, which would facilitate the government's implementation of policies.
Committee members Tsai Hsien-hao (蔡憲浩) and Frank Hsieh (謝長廷), a former premier, also spoke in favor of the idea, Juan said.
Tsai Hsien-hao and Hsieh said that while the DPP Central Standing Committee has the special municipalities mayors and three caucus leaders as ex-officio members, "there seems to be a missing link between the central government and the legislature."
A president who is also the party chairperson could be the best coordinator between the central and local governments and between the executive branch and the legislative branch, they said.
Ruan said that Tsai told the committee that she had been pondering the issue and had already decided to double as chairperson to be more effective in pushing for the reforms that the party has proposed.
The issue of whether Tsai should continue as the DPP chairperson was a hot topic of discussion before the Jan. 16 elections because many DPP politicians have long criticized President Ma Ying-jeou (馬英九) for also serving as chairman of the Chinese Nationalist Party (KMT).
Additional reporting by CNA
Comments will be moderated. Keep comments relevant to the article. Remarks containing abusive and obscene language, personal attacks of any kind or promotion will be removed and the user banned. Final decision will be at the discretion of the Taipei Times.