Chang Yung-fa, the creator of Evergreen Group, dies aged 88
HUMBLE BEGINNINGS: Evergreen Marine, the firm that began his empire, was established in 1968 with one used bulk vessel. Now it has more than 190 ships
Chang Yung-fa (張榮發), the billionaire founder of Evergreen Group (長榮集團) who turned a second-hand bulk carrier into Asia's biggest container-shipping line, died yesterday. He was 88.
He died at 11:05am, Evergreen Group said in an e-mail. No cause was given.
Chang, the son of a seaman, started building his business almost five decades ago by buying a used bulk vessel and became one of the nation's richest people. He was chairman of Taipei-based Evergreen Group, which owns Asia's largest container fleet through Evergreen Marine Corp (長榮海運); EVA Airways Corp (長榮航空), the nation's largest airline by market value; Evergreen Sky Catering Corp (長榮空廚), an airline-catering company; and hotel chain Evergreen International Hotels (長榮桂冠酒店).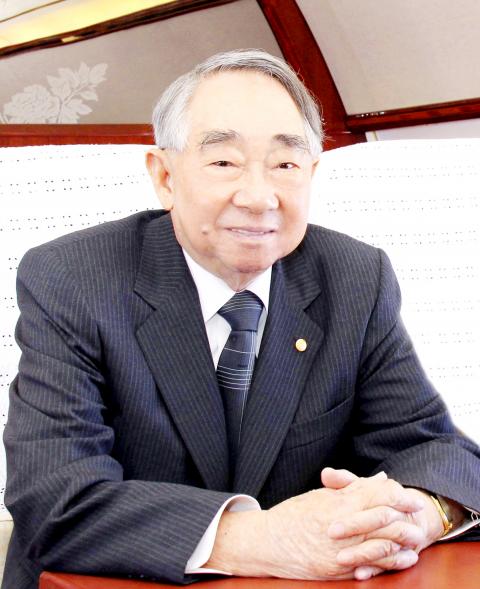 Evergreen Group founder Chang Yung-fa is pictured on July 1, 2009.
Photo: EPA
Chang has a fortune of at least US$1 billion, according to the Bloomberg Billionaires Index.
"The oceans and ships occupy very important places in my life," Chang wrote in his autobiography, published in 1997.
The tycoon called himself "a natural-born son of the ocean."
Evergreen Marine, the company that began his business empire, was established in 1968 with the used bulk vessel.
It expanded into an operator of more than 190 ships, according to information from shipping-data provider Alphaliner.
The company posted a net loss of NT$2.41 billion (US$71.25 million at current exchange rates) in the quarter ended September last year, after posting a profit a year earlier, as the global economic slowdown hurt the shipping industry.
Chang was also an advocate of closer economic relations with and China. In 2008, Taiwanese and Chinese airlines, including EVA Airways, began regular flights across the Taiwan Strait after the lifting of a six-decade ban on direct transport links.
His personal holdings as of Dec. 31 last year included 6 percent of publicly traded Evergreen Marine and 2.9 percent of EVA Airways, the nation's largest airline by market value, according to data compiled by Bloomberg.
His youngest son, Chang Kuo-wei (張國煒), is chairman of EVA Airways.
Evergreen Group is the benefactor of non-profit organizations such as a maritime museum and a symphony orchestra.
Born on Oct. 6, 1927, in the northeastern coastal township of Suao (蘇澳), Chang was the third of seven children. He started working as a clerk for a Japanese shipping company as a teenager while attending night school and went on to spend 15 years as a sailor, rising to the rank of captain.
Chang became the family's breadwinner when his father died in 1944, as his two elder brothers had married by then, according to his book.
He was married in 1953, and had four sons and a daughter.
In 1989, his son Chang Kuo-ming (張國明) was kidnapped for a US$1.9 million ransom.
The younger Chang was eventually released unharmed, while his three kidnappers were apprehended and executed the following year, The Associated Press reported at the time.
Comments will be moderated. Keep comments relevant to the article. Remarks containing abusive and obscene language, personal attacks of any kind or promotion will be removed and the user banned. Final decision will be at the discretion of the Taipei Times.