Soong says he will not be Tsai's China envoy
'NOT EVEN GODS': Soong said nobody could implement Tsai's cross-strait policy, and maintained that he remains very much in the running to win the presidency
People First Party (PFP) presidential candidate James Soong (宋楚瑜) yesterday dismissed speculation he might serve as a special cross-strait envoy should Democratic Progressive Party (DPP) chairperson Tsai Ing-wen (蔡英文) be elected president, saying even gods could not implement Tsai's China policy.
Soong made the remarks at an international news conference in Taipei yesterday morning, during which he answered a number of questions from local and foreign media that mostly dwelled on post-election cross-strait ties.
The news conference was also attended by PFP legislator-at-large candidate Lee Hung-chun (李鴻鈞), former minister of the interior Lee Hong-yuan (李鴻源) and former PFP legislator Hwang Yih-jiau (黃義交).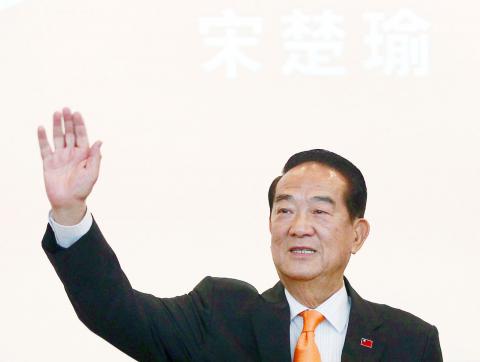 People First Party Chairperson and presidential candidate James Soong waves during a news conference in Taipei yesterday.
Photo: Reuters
"Under the Republic of China's [ROC] constitutional system, the president is responsible for setting policies, which are to be executed by someone he or she assigns," Soong said when asked if he would agree to serve as Tsai's special envoy to China if she won Saturday's presidential election.
Soong said that he was anxious about Tsai's cross-strait policies and did not believe her policies would solve the cross-strait conundrum and prompt the other side of the Taiwan Strait to sit down with her.
Tsai's policies are so unfeasible and equivocal that even gods could not help her, Soong said.
"Besides, there is no guarantee that Tsai will win the race," he added.
Soong said his landmark 2005 meeting with then-Chinese president Hu Jintao (胡錦濤) in Beijing paved the way for the decriminalization of cross-strait dealings, allowed peaceful dialogue between both sides and reduced the risks of military conflict across the Taiwan Strait.
Asked if he fretted about the possibility of being replaced by President Ma Ying-jeou (馬英九) or Chinese Nationalist Party (KMT) presidential candidate Eric Chu (朱立倫) in his role as a bridge for cross-strait communications, Soong said he was willing to share the task with anyone intending to engage in peaceful dialogue with China.
"I am willing to let anyone do the same good things," Soong said.
Soong said cross-strait relations had been marred by mistrust and fears of armed conflict over the past six decades before eventually being able to accommodate friendly interactions.
Recent improvements in cross-strait relations have prompted even the DPP to back away from its relatively extreme China policies, Soong said, with Tsai — who had been reluctant to admit she was running for the presidency of the ROC — also expressing hopes to maintain the peaceful development of cross-strait ties.
"Nevertheless, Taiwanese, Western countries and China have yet to place their full trust in the DPP's direction of cross-strait policies," Soong said.
The PFP chairman shrugged off speculation that he has given up on the presidential race due to his low approval ratings and has shifted his focus to campaigning for his party's legislative candidates.
"According to the law, I am not allowed to discuss polling results now, but I can assure you that my approval ratings have climbed dramatically after the two televised presidential debates and are far higher than estimated," Soong said.
"All I can say is that the KMT is seriously lagging behind and the DPP's election outlook is not necessarily promising, but the PFP's momentum has seen significant growth," he added.
Comments will be moderated. Keep comments relevant to the article. Remarks containing abusive and obscene language, personal attacks of any kind or promotion will be removed and the user banned. Final decision will be at the discretion of the Taipei Times.