Clara Chou not guilty of defamation
TARNISHED? Some pundits hailed the court ruling as a victory for Chou and critics of the Ma administration, and as a major blow to the president and his reputation
Media personality Clara Chou (周玉蔻) was found not guilty of defamation by the Taipei District Court yesterday in a case involving President Ma Ying-jeou (馬英九) and allegations of illicit political donations by Ting Hsin International Group (頂新國際集團).
The court's decision was based on interpretation of Article 310 of the Criminal Code, in stating that "although the defendant cannot prove if the expressed statements were true, if according to the evidence and materials presented the defendant has reason to believe in their veracity, then the case cannot be prosecuted as defamation and its related punishment."
Prosecutors filed the case against Chou after she made accusations on talk shows and in statements to media outlets in December of 2014 saying that she had evidence that Ma had received NT$200 million (US$6.05 million at current exchange rates) in an off-the-books political donation from the owners of Ting Hsin.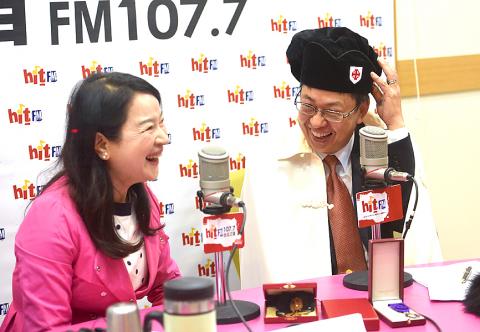 Democratic Progressive Party vice presidential candidate Chen Chien-jen, right, laughs during an interview with radio host Clara Chou on Nov. 24 in Taipei.
Photo: Lo Pei-der, Taipei Times
Chou's allegations came amid a public furor over a tainted food scandal involving the group after the company was found to have used adulterated ingredients in its oil products and she insinuated that Ma had become a "guardian protector," shielding the group from prosecution.
Some political pundits and members of the public hailed yesterday's court ruling as a victory for Chou and critics of the Ma administration, and as a major blow to Ma and his reputation.
In response, Ma expressed his dissatisfaction with the court's ruling and issued a statement saying that he had requested his lawyers to appeal the ruling.
"President Ma regrets the court ruling. In recent years, a number of pundits and media figures have made groundless accusations, saying they have inside information. They have tarnished reputations and such abhorrent actions have resulted in a more chaotic society. We should condemn these developments and therefore we have requested that the lawyers appeal, to preserve goodwill and kindness in society," the statement issued by Presidential Office spokesperson Charles Chen (陳以信) said.
Chou also accused former Presidential Office deputy secretary-general Lo Chih-chiang (羅智強) of receiving benefits from Ting Hsin and said that Senhwa Biosciences chairman Benny Hu (胡定吾), a friend of Ma's, had acted as a middleman in the NT$200 million donation.
Hu is also a board member of Taipei Financial Center Corp (台北金融大樓公司), the firm that operates Taipei 101.
Chou also alleged that Hon Hai Precision Industry Co (鴻海精密) chairman Terry Gou (郭台銘) made a secret donation of NT$300 million to then-Chinese Nationalist Party (KMT) Taipei mayoral candidate Sean Lien (連勝文) last year.
Comments will be moderated. Keep comments relevant to the article. Remarks containing abusive and obscene language, personal attacks of any kind or promotion will be removed and the user banned. Final decision will be at the discretion of the Taipei Times.