More than 100,000 evacuated as floods hit South America
More than 100,000 people have had to evacuate from their homes in the bordering areas of Paraguay, Uruguay, Brazil and Argentina due to severe flooding in the wake of heavy summer rains brought on by El Nino, authorities said on Saturday.
In the worst-affected country, Paraguay, about 90,000 people in the area around the capital city of Asuncion have been evacuated, the Asuncion Emergencies Office said.
Many are poor families living in precarious housing along the banks of the River Paraguay.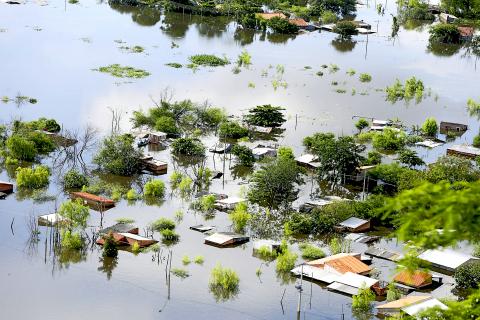 Houses are partially submerged by floodwaters in Asuncion on Dec. 20.
Photo: Reuters
The Paraguayan government has declared a state of emergency in Asuncion and seven regions of the country to free up funds to help those affected. Several people have been killed by trees falling in the storms that caused the flooding, local media reported. There was no official death toll yet.
In Alberdi, about 120km south of Asuncion, the government recommended that several thousand more people living along the banks of the River Paraguay evacuate.
"[The flooding] was directly influenced by the El Nino phenomenon which has intensified the frequency and intensity of rains," the national Emergencies Office said.
This year's El Nino, which sparks global climate extremes, is the worst in more than 15 years, the UN's World Meteorological Organization (WMO) said last month.
"Severe droughts and devastating flooding being experienced throughout the tropics and sub-tropical zones bear the hallmarks of this El Nino, which is the strongest in more than 15 years," WMO Secretary-General Michel Jarraud said in a statement.
Officials at Paraguay's Emergencies Office said the river might rise even more in the coming days, stabilizing and falling back towards normal levels from next month onwards.
In northern Argentina, about 20,000 people have also had to abandon their homes, the government said on Saturday.
"We are going to have a few complicated months, the consequences will be serious," Corrientes Province Governor Ricardo Colombi said after flying over the worst affected areas with Argentine Cabinet chief Marcos Pena.
Pena said national government aid was already on its way and Argentine President Mauricio Macri intended to make improving infrastructure a priority so that such flooding did not occur again.
"Argentina has a very big lack of infrastructure," he said.
Macri was due to visit the flooded areas yesterday.
In Uruguay, more than 9,000 people have had to flee their homes, according to the Uruguayan Emergencies Office, which added that it expected water levels to remain at their current level for several days before subsiding.
At least four people have died in Argentina and Uruguay due to the storms and floods, according to local media reports.
One was reported to have drowned while another was electrocuted by a fallen power cable.
Brazilian President Dilma Rousseff also flew over the flooded areas on the border with Argentina and Uruguay on Saturday morning. Rio Grande do Sul state civil defense said 1,795 people were left homeless there after 38 towns were affected by heavy rains.
Comments will be moderated. Keep comments relevant to the article. Remarks containing abusive and obscene language, personal attacks of any kind or promotion will be removed and the user banned. Final decision will be at the discretion of the Taipei Times.