Washington confirms US$1.83bn in arms
NOTICE TO CONGRESS: The Obama administration's authorization of the first major arms sale in four years came a year after Congress gave legislative approval
In a long-awaited announcement — widely criticized as too little too late — the US government on Wednesday said that it would sell US$1.83 billion in weaponry and equipment to Taiwan.
As expected, the deal did not include the systems that Taipei wanted most — F16C/D fighters and technical help with its indigenous diesel electric submarine program.
While most Washington analysts and members of the US Congress were quick to welcome the proposed sale there were also calls for more sales on a regular basis.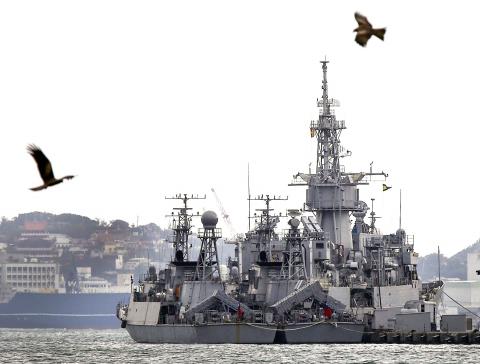 Two Republic of China Navy ships made in the US are docked at the naval base in Keelung Harbor yesterday.
Photo: RITCHIE B. TONGO / EPA
China's strong objections to the sale were thought unlikely to cause a major disruption to Washington-Beijing relations.
The announcement of the sale — the first in four years — came in the form of a notification to Congress that the US Department of State had approved the sale.
The list of items includes two of the four FFG-7 Oliver Hazard Perry-class guided missile frigates that were authorized by law for transfer a year ago, with refurbishment and upgrade costs of US$190 million.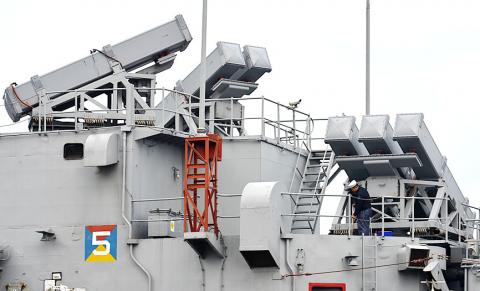 A sailor yesterday cleans the deck next to missile batteries on board the ROCS Lan Yang, a US-made Knox-class frigate, at the naval base in Keelung Harbor.
Photo: Sam Yeh / AFP
It also includes 36 AAV-7 Assault Amphibious Vehicles at a cost of US$375 million; 13 MK 15 Phalanx Block 1B ship defense Close-in Weapon Systems, upgrade kits, ammunition and support, priced at US$416 million; 208 Javelin guided missiles, technical assistance, logistics and program support, which are priced at US$57 million; and 250 Block I-92F MANPAD Stinger missiles, related equipment and support, priced at US$217 million.
The list was considered modest, contained no surprises and left military experts mystified as to why it had taken US President Barack Obama's administration four years to produce.
"It's clear that the administration doesn't want to upset mainland China by providing anything that can be seen as upsetting the balance of power in the region or appearing to be offensive," US Naval Institute analyst Eric Wertheim said.

Senate Armed Services Committee Chairman John McCain urged the White House to consider future requests for arms sales to Taiwan in a "more regularized" process to avoid extended periods in which a fear of upsetting the US-China relationship might harm Taiwan's defense capabilities.
"For its part, Taiwan will also need to work to meet its commitment to spend at least 3 percent of its annual gross domestic product on defense," McCain said.
The US-Taiwan Business Council said the timing of the announcement was a signal to China that Washington had equities in the peaceful transition of power in Taiwan and that it supported Taiwan's democratic system.
The council also said the arms sales package raises serious questions as to whether it served as a response commensurate to the threat posed by China's military.
Rupert Hammond-Chambers, the council's president, said that while China had deployed new fighters, submarines and missiles since the last arms sale to Taiwan, the US had consistently refused to consider providing Taiwan access to similar weapons.
"The process for considering, assessing and processing Taiwan arms sales is broken," Hammond-Chambers said.
"The contorted efforts to provide the minimum over an extended period has amounted to long delays and to the US providing only second-hand equipment and additional munitions for systems already in Taiwan's inventory," he said.
Heritage Foundation expert Dean Cheng said the latest package did not address the largest problems facing Taiwan's national security — the eroding balance in the air and the aging of its submarine fleet.
"Without the ability to control the airspace over the island and a means of keeping the Chinese nervous about the subsurface threat on their navy, Taiwan's defense posture will continue to erode," he said.
The US House of Representatives Foreign Affairs Committee Chairman Ed Royce, a Republican, said he was "deeply concerned" about administration delays that "needlessly dragged out this process."
"We should handle arms transfers for Taiwan just as we would for any other close security partner," Royce said.
US Representative Eliot Engel, the ranking Democratic member of the committee, agreed.
He said arms sales should be made on a regular basis.
"We cannot allow our relationship with the People's Republic of China to come at the expense of our friendship with Taiwan," he said.
The White House spokesperson Josh Earnest would not comment on why it had taken four years to process the package.
"There has been no change to our long-standing 'one China' policy that's based on the three joint communiques and the Taiwan Relations Act," he said.
State Department spokesperson John Kirby said the US made the decision based on an assessment of Taipei defense needs.
"The Chinese can react to this as they see fit. There is no need for it to have any derogatory effect on our relationship with China," he said.
Comments will be moderated. Keep comments relevant to the article. Remarks containing abusive and obscene language, personal attacks of any kind or promotion will be removed and the user banned. Final decision will be at the discretion of the Taipei Times.