OBITUARY: Taipei Times founder Rong San Lin passes away at home aged 76
SAD DAY: Mr Lin's spirit was remembered by his employees, while his family expressed its 'utmost gratitude' to 'those who have expressed concern'
May 27, 1939 ~ November 28, 2015
Mr Rong San Lin (林榮三), founder of the Taipei Times and its sister newspaper the Liberty Times, passed away at 2:30pm yesterday as a result of a tumor in combination with heart and lung failure. Following treatment by a team of doctors at National Taiwan University Hospital, Mr Lin passed away peacefully in his home with his children and family by his side. Mr Lin was 76 years old.
With immense sadness, the Liberty Times Group and Union Group acknowledge this difficult loss. In recognition of Mr Lin's pragmatic spirit, diligence and self-motivation in everything he did, all employees will double their efforts and unite in an effort to continue their passionate service to society.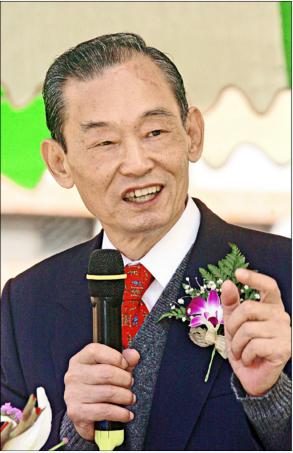 Mr Lin Rung San.
Photo: Taipei Times
"It is with the utmost gratitude that the family thanks those who have expressed their concern, and we ask for your forgiveness and understanding for not being able to thank everyone individually," the Lin family said.
Mr Lin was an honorary doctor of law at Fu Jen Catholic University, founder of the Liberty Times Group, the Union Group and the Rong San Lin Foundation of Culture and Social Welfare. He served as a legislator, member of the Control Yuan, national policy adviser to the president and senior adviser to the president. He had a longstanding concern for freedom of expression and democratic development in Taiwan. In 2000 he was awarded the Order of the Brilliant Star with Grand Cordon by then-president Lee Teng-hui (李登輝) and in 2008 he was awarded the Order of Propitious Clouds with Grand Cordon by then-president Chen Shui-bian (陳水扁) in recognition of his contributions.
Comments will be moderated. Keep comments relevant to the article. Remarks containing abusive and obscene language, personal attacks of any kind or promotion will be removed and the user banned. Final decision will be at the discretion of the Taipei Times.