Former Chu deputy charged with corruption
The Taipei City District Prosecutors' Office yesterday indicted former New Taipei City deputy mayor Hsu Chih-chien (許志堅) — once the right-hand man of Chinese Nationalist Party (KMT) presidential candidate Eric Chu (朱立倫) and a close associate of President Ma Ying-jeou (馬英九) — as well as six other people on charges of corruption over alleged bribes totaling NT$7.58 million (US$233,410) to facilitate urban renewal projects on bids by construction contractors.
The prosecutors' office said that Hsu, who was head of the municipality's urban renewal project review committee and the urban planning committee, was in charge of all major decisions concerning the municipalities urban planning and urban renewal projects.
According to the office, Hsu was allegedly asked by Baosing Construction Co (寶興建設) supervisor Kuo Chao-hsiang (郭兆祥) via Chou Li-hui (周麗惠) in May 2011 to help with the company's projects over 35 tracts of land adjacent to in Sindian District's (新店) Beiyi Road.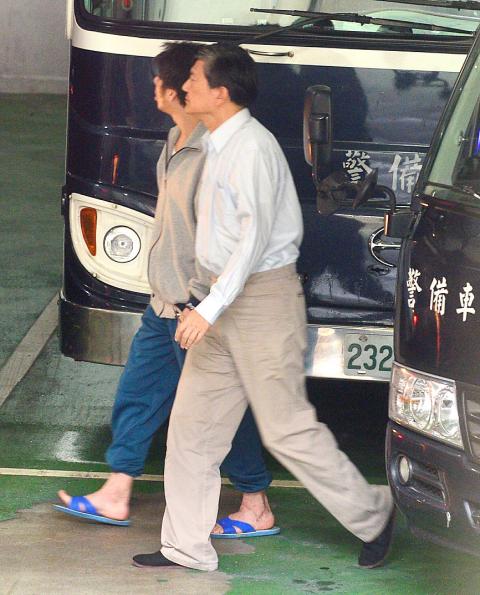 Former New Taipei City vice mayor Hsu Chih-chien, front, yesterday arrives at the Taipei District Prosecutors' Office for questioning about his alleged role in a corruption scandal.
Photo: Wang Yi-sung, Taipei Times
The project had been stalled at the committee because the proper documents had not been submitted, sources said.
Kuo allegedly returned to Hsu for more favors to expedite processes in 2012, 2013 and last year, using Chou and Chou Chia-shuan (周佳萱), an accountant at Hongsheng Development and according to a report in the Chinese-language Apple Daily, Chou Li-hui's niece, as the handlers, the district office said.
Baosing had allegedly offered, via Chou Li-hui, NT$110,000 to Hsu every month starting from May 2011, NT$40,000 per month to Hsu's son Hsu Shih-yun (許士耘) and Hsu Chih-chien's elder brother, Hsu Chih-yuan (許志遠), and a personal up-front monthly payment of NT$30,000 to Hsu Chih-chien, the office said.
Le Young Construction Co (樂揚建設) allegedly approached Hsu to help facilitate project application for construction in Banciao District (板橋) that would involve six tracts of land through real-estate agent Tsai Che-yi (蔡哲義) in May last year, the office said.
Le Young Construction president Tsou Hsueh-e (鄒雪娥) allegedly gave Hsu a Chopard brand watch costing NT$216,750 in December 2012 and two bars of gold each weighing 5g worth NT$473,500 in May last year to have the project bumped up in the committee procedures, the office said.
Hsu also accepted another two watches, another from Chopard and one from Chanel, from Tsou and Chou Li-hui on May 11 last year, the office said.
Up until he resigned as deputy mayor on June 29 last year, Hsu Chih-chien allegedly received NT$6.52 million in cash and fund transfers, three branded watches and two gold bars for a total of NT$7.39 million in bribes, the office said.
Comments will be moderated. Keep comments relevant to the article. Remarks containing abusive and obscene language, personal attacks of any kind or promotion will be removed and the user banned. Final decision will be at the discretion of the Taipei Times.