Obama puts China's territorial claims in spotlight at APEC
US President Barack Obama yesterday demanded China end artificial island building in the South China Sea, upping the pressure on Beijing at the annual APEC summit.
The gathering is meant to forge unity on trade among 21 Pacific rim economies that group 3 billion people.
However, the territorial row over the strategically vital South China Sea, as well as terrorism concerns following last week's Paris rampage, have dominated the build-up to this year's meeting in the Philippines.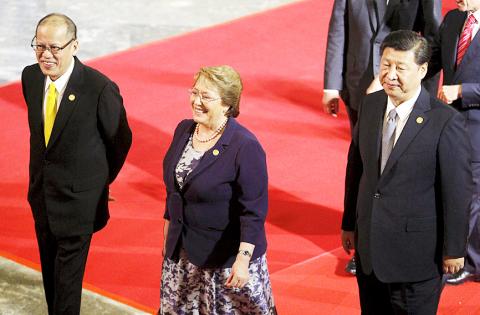 From left to right, Philippine President Benigno Aquino III walks with Chilean President Michelle Bachelet and Chinese President Xi Jinping during the official welcoming ceremony for the APEC leaders summit in Manila yesterday.
Photo: Reuters
China has repeatedly insisted its disputes with its Asian neighbors over the sea should not be on the APEC agenda, but just hours before the two-day summit started, Obama voiced concerns over giant land reclamation works by China that have created new islands close to the Philippines.
"We discussed the impact of China's land reclamation and construction activities on regional stability," Obama told reporters after meeting Philippine President Benigno Aquino III.
"We agree on the need for bold steps to lower tensions, including pledging to halt further reclamation, new construction, and militarization of disputed areas in the South China Sea," he said.
In a speech at a business forum in Manila ahead of the summit, Chinese President Xi Jinping (習近平) did not directly mention the territorial disputes, but he did call on Pacific nations to "resolve our differences through dialogue and consultation."
The icy relations between Manila and Beijing because of their territorial disputes were clear to see as Xi took a long and lonely red carpet walk. Aquino led the heads of the APEC delegations along a red carpet laid throughout the summit venue to a stage where they gathered for the opening ceremony. Xi and Chilean President Michelle Bachelet were in the front row alongside Aquino, but he only chatted with Bachelet, leaving Xi to plod on alone.
Additional reporting by AP
Comments will be moderated. Keep comments relevant to the article. Remarks containing abusive and obscene language, personal attacks of any kind or promotion will be removed and the user banned. Final decision will be at the discretion of the Taipei Times.