White House sends tough message ahead of Xi talks
A top White House official on Tuesday hosted US non-governmental organizations (NGO) who face tough new Chinese security laws, a high-profile statement of concern as Chinese President Xi Jinping (習近平) arrived in the US.
US National Security Advisor Susan Rice met several representatives from among the universities, businesses and rights groups that would be forced to register and report to the Chinese security services if the draft law enters into force.
"Today's discussion focused on concerns that the draft legislation would further narrow space for civil society in China," the White House said in a statement that came hours after Xi landed in the US.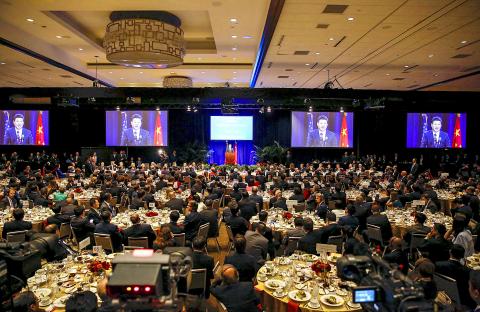 Chinese President Xi Jinping on Tuesday delivers a policy speech to US and Chinese business executives during a dinner-reception at the Westin Hotel in Seattle, Washington.
Photo: Reuters
Sources familiar with Rice's talks said it included some organizations that receive US government grants. The controversial draft law looks set to be yet another area of contention when Xi meets US President Barack Obama at the White House tomorrow for a summit designed to strengthen ties.
"I think the president will make that clear," a senior US administration official said, describing the draft law as "deeply troubling" and its impact "very unfortunate."
"We are going to find some opportunities to speak out on that issue and also find an opportunity to meet some of the stakeholders involved," the staffer said.
"Our concern with the law is profound," the official said.
"First of all it is very broad; it gives a huge role to the Ministry of Public Security, not the Ministry of Civil Affairs that used to manage these groups. I have heard a number of these groups saying that they are having to question whether they will remain in China, whether they will curtail their activities in China or whether they will cancel plans to establish a presence in China," the official said.
The White House said the legislation could hinder services to the Chinese people and "constrain US-China people-to-people exchanges."
"There's a lot of pressure on the administration to push back on this, to get the Chinese to change it," said Christopher Johnson, a former CIA analyst now with the Center for Strategic and International Studies.
"Take Yale University, for example. They have a presence in China. If in New Haven they choose to host a dissident or the Dalai Lama or something like that, technically under this law the people in China would be subject to arrest," Johnson said.
Xi did not fully dispel the criticisms late on Tuesday when he addressed the issue in a wide-ranging speech in Seattle.
"China recognizes the positive role of foreign non-profit organizations. So long as their activities are beneficial to the Chinese people, we will not restrict or prohibit their operations," he said, adding that they have "legitimate rights and interests."
However, for their part, foreign NGOs in China "need to obey Chinese law and carry out activities in accordance with the law," he said.
According to the drafts of the law being considered by China's National People's Congress, overseas NGOs will have to "partner" with at least one Chinese government department. They will also have to submit "work plans" detailing their activities to the police for approval.
In other developments, Pentagon spokesman Peter Cook on Tuesday said that a Chinese aircraft performed an unsafe maneuver during an air intercept of a US spy plane last week.
The intercept occurred on Tuesday last week, about 130km east of the Shandong Peninsula in the Yellow Sea and involved an US RC-135 reconnaissance plane, Cook said.
"The pilot reported that he felt ... the aircraft passed in front of his nose in an unsafe fashion," he said.
The US Department of Defense is reviewing the report of the incident, Cook said.
Chinese Foreign Ministry spokesman Hong Lei (洪磊) yesterday said he did not know anything about the incident, but that China is committed to maritime and aviation safety.
Additional reporting by Reuters
Comments will be moderated. Keep comments relevant to the article. Remarks containing abusive and obscene language, personal attacks of any kind or promotion will be removed and the user banned. Final decision will be at the discretion of the Taipei Times.