Number of cases of dengue fever tops 9,000: CDC
The Centers for Disease Control (CDC) yesterday said the number of dengue fever cases recorded nationwide since May had increased to 9,103, with 98.41 percent occurring in the southern municipalities of Tainan and Kaohsiung.
As of Saturday, 8,022 cases had been reported in Tainan, accounting for 88.12 percent of the total, an increase of 362 cases from the previous day, the CDC said.
Kaohsiung had reported 936 cases, accounting for 10.29 percent of the total, an increase of 51 cases from Friday last week.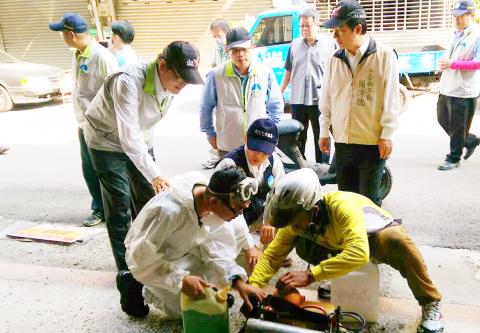 Tainan Mayor William Lai, second right, and Environmental Protection Administration Minister Wei Kuo-yen, center, observe mosquito eradication work in Tainan's West Central District yesterday.
Photo: CNA
Other cities and counties have had far fewer cases, with Pingtung County reporting 33; Taichung 22; Taoyuan 19; New Taipei City 16; Taipei 10; Chiayi County nine; Hsinchu County eight; Hsinchu City six; Changhua County five; and Chiayi City four.
Keelung and Miaoli and Nantou counties, as well as outlying Penghu and Kinmen, have each reported two cases, while Yilan, Hualien and Yunlin counties have each reported one.
No cases have been reported in Taitung County and the outlying Matsu Islands.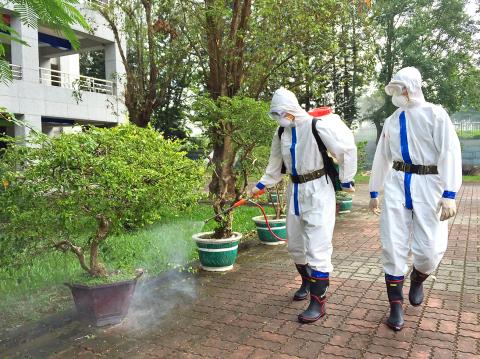 Soldiers from an army chemical warfare unit spray insecticide in Taichung's Sinshe District on Friday.
Photo: CNA
According to the CDC, about 44 people might have died from the mosquito-borne disease since the start of summer, but only 18 cases have been confirmed.
In Tainan, 2,813 cases were reported in the North District (北區); 1,217 cases in the West Central District (中西區); 1,136 cases in the South District (南區); 859 cases in the Yongkang District (永康); 660 cases in Annan District (安南); and 612 cases in the East District (東區), the Tainan City Government's Health Department said, adding that almost all of those districts fall within a 12km radius of Tainan Railway Station.
Only two of Tainan's 37 districts have reported no cases of dengue fever — Beimen (北門) and Longci (龍崎) — the city's health department said.
The Kaohsiung City Government's Health Department has sent personnel to spray insecticide in the Cijin (旗津), Dashe (大社) and Yancheng (鹽埕) districts.
It said that it expects an escalation in the number of dengue fever cases in the city, potentially lasting until November.
Of Kaohsiung's 38 districts, 28 have so far reported dengue fever cases, according to local statistics.
Last year, the incidence of dengue fever cases in Kaohsiung reached nearly 15,000, with 20 recorded fatalities.
Comments will be moderated. Keep comments relevant to the article. Remarks containing abusive and obscene language, personal attacks of any kind or promotion will be removed and the user banned. Final decision will be at the discretion of the Taipei Times.