All-volunteer military plans postponed
CONSCRIPTION TO STAY? A defense official said that circumstances and challenges meant the plan could face further delays or national conscription might even be kept
The Ministry of National Defense late on Tuesday said its policy to phase out conscription and implement an all-volunteer military would be postponed again, as recruitment targets could not be met.
The plan to abolish the conscription system is to be pushed back at least to the end of next year, though it would still depend on the number of voluntary enlistments and other conditions at that time.
Critics and media called the postponement an embarrassing setback for President Ma Ying-jeou (馬英九); another "bounced check" among many promises Ma has made.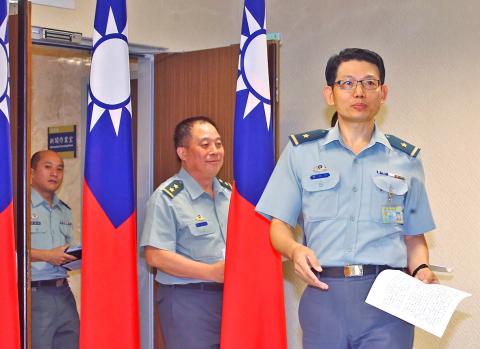 Ministry of National Defense spokesman Major General David Lo, right, speaks at a news conference in Taipei yesterday to clarify the nation's conscription policy.
Photo: CNA
Establishing an all-volunteer military, consisting entirely of career soldiers, is considered one of Ma's most important pledges and seen as an important test of fulfilling major government policies in his second term.
A total of 23,100 people, males aged 18 or over, would be affected by the postponement, according to the ministry's announcement.
"Conscription is needed to cope with hostile threats from the enemy, escalating tensions in the region, the need for high combat readiness among the armed forces, and to effectively respond to disaster rescue and relief, and other emergencies," the statement said.
According to officials, the ministry said Ma was informed of situation at a recent top-level military meeting, and the Cabinet approved the decision.
Ministry officials said compulsory military training is still in effect for males born after Jan. 1, 1994, who are still required to undergo four months of basic military training.
This is the second time that the ministry has pushed back its implementation of an all-volunteer military after not being able to meet its targets.
In September 2013, the ministry said the date would be pushed back two years because of recruitment difficulties and other situations among the branches of the armed forces.
In the original plan, the armed forces were scheduled to end compulsory military service for males born before Jan. 1, 1994, starting from Jan. 1 next year.
Tuesday's statement marked an abrupt reversal, as the ministry announced just last month that shifting from conscription to an all-volunteer force was on track and it had reached 71 percent of its recruitment goal for the year, due to improved stipends and other incentives.
According to a high-ranking ministry official, as Taiwan is facing many "complicated circumstances and new challenges both internally and externally," and as the situation is constantly changing, next year's date could be pushed back again.
National conscription might even be kept, the official said.
"It will depend on adjusting to contingencies and new situations next year," he added.
Presidential Office spokesperson Charles Chen (陳以信) said the military is on a "combined conscription and volunteer force," and as such is not implementing an "all-volunteer force."
"Due to false expectations, created when the term 'all-volunteer force' began to be used, it is not the case — as media reports have said — that this is a 'bounced check on the all-volunteer force promise,'" Chen said.
"It was never the case," he said.
Additional reporting by Wang Yu-chung
Comments will be moderated. Keep comments relevant to the article. Remarks containing abusive and obscene language, personal attacks of any kind or promotion will be removed and the user banned. Final decision will be at the discretion of the Taipei Times.