KMT pans Lee Teng-hui Japan remarks
'NOT MY HOMELAND': KMT Legislator Lin Yu-fang said that an ancestral land is where one's ancestors existed, adding that the former president's ancestors were from China
The Chinese Nationalist Party (KMT) legislative caucus criticized former president Lee Teng-hui (李登輝) for saying Taiwanese fought for Japan, which was then their motherland, in World War II and told him to return to what he sees as his native homeland.
Lee's office director Wang Yan-chun (王燕軍) responded that the KMT is using the subject to turn public attention away from its incompetence and lagging public support.
Lee is reported to have said in an interview with a Japanese magazine that insofar as Taiwan had been part of Japan, Taiwanese did not fight in China's War of Resistance Against Japan as President Ma Ying-jeou (馬英九) recently said at a ceremony to mark the 70th anniversary of the end of the Republic of China's (ROC) war against Japan.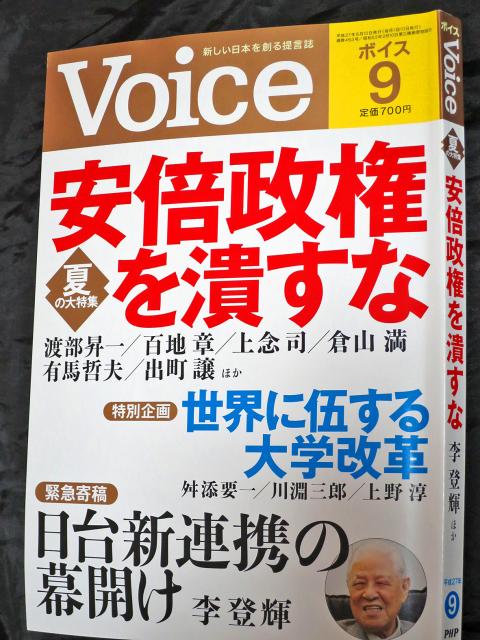 The cover of the September issue of the Japanese magazine "Voice," which features an article by former president Lee Teng-hui in which Lee says Taiwan never fought against Japan during World War II, because at the time, Taiwanese were Japanese fighting for Japan.
Photo: CNA
The KMT caucus in a news conference fumed over Lee's remarks, calling him "a bandit who sold out his nation," "Hanjian [traitor to the Han people]" and "Japan's running dog."
KMT Legislator Lin Yu-fang (林郁方) said Taiwan had been simply a colony, adding: "When did you create the illusion that you could be treated as their equals?"
"Even Japanese would despise Lee's remarks. Many Japanese academics, and even [Japanese Prime Minister Shinzo Abe] and Japan's emperor, have regretted and reflected on the policy of colonization. Many Japanese, housewives and young students alike, have taken to the streets to protest Abe's militarism," he added.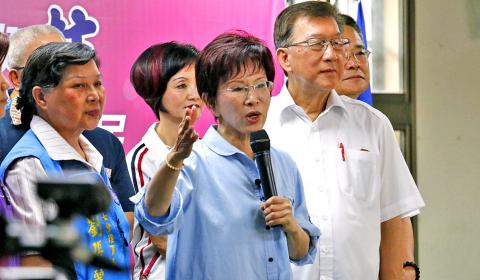 Chinese Nationalist Party (KMT) presidential candidate Hung Hsiu-chu, speaking, accuses former president Lee Teng-hui yesterday in Hsinchu County of treason because Lee said Taiwan's mother country was Japan.
Photo: CNA
"Lee said Japan was Taiwanese people's homeland. That is not my homeland. An ancestral land is where your ancestors existed, and Lee's ancestors were from [China's] Fujian Province," Lin said.
He then listed Taiwanese figures who went to China and joined the ROC army during World War II to fight against Japan.
"How could you say that there was no anti-Japan [movements]?" he said.
KMT Legislator Lu Hsueh-chang (呂學樟) said Lee should not assume himself to be representative of all Taiwanese, adding that there were movements in colonial Taiwan resisting Japan.
"Mona Rudo, Luo Fu-hsing (羅福星) and Chiang Wei-shui (蔣渭水) all engaged in anti-Japan activities," Lu said.
Lu told Lee to return to his motherland and "stop scamming Taiwanese," saying that Lee's 12 coronary stents and treatments afforded to him as a former president have all been paid for using public funds.
The KMT caucus said that they would propose scrapping all courtesy afforded to Lee in the next legislative session.
Wang said Lee's interview with Voice magazine was mainly about possible economic cooperation between the two nations, adding that the Ma administration is trying to "distract people" from an economic slump by making false accusations.
"[Lee] touched upon Taiwan's history [during the interview] and said 70 years ago there was no 'war of resistance' against Japan in Taiwan, only activities resisting Japanese [rule]. We do not know how the magazine edited the interview afterward, and the Chinese translation of it is not of our working either," Wang said.
"Taiwan was under Japanese rule 70 years ago, during which there were activities resisting Japanese rule, but no 'war against Japan,' which is a historical perspective belonging to the KMT as a settler regime, rather than a historical truth," Lee's office said, adding that "certain KMT members" are attempting to manipulate ethnicity issues to whip up hostility among groups before next year's elections.
People First Party presidential candidate James Soong (宋楚瑜) said that as a former president, Lee should have exercised discretion when making such a remark.
"I have not read the entire article, so I am afraid I am not in a position to comment on information disseminated by others. Nevertheless, given that Lee was once a leader of Taiwan, he should have been more discreet with his comments," Soong said on the sidelines of a news conference held for the release of his latest campaign video in Taipei yesterday morning.
As for Lee's remarks made last month during his trip to Japan that the disputed Diaoyutai Islands (釣魚台), known as the Senkakus in Japan, belong to Japan rather than Taiwan, Soong said the comments violated basic positions of Taiwan's head of state.
"The Republic of China's sovereignty claims over the Diaoyutai Islands are clear and explicit and we must adhere to this position," Soong said, adding that Lee had said that the disputed islands belonged to the Taiwan Province.
However, KMT Legislator Lee Hung-chun (李鴻鈞), who has openly endorsed Soong, took a harsher tone on the matter.
"We are all citizens of the ROC. I wonder what Lee Teng-hui's motives were behind his remarks. He needs and should give the public an explanation, particularly given that he has been receiving courtesy payments as a former president," Lee Hung-chun said.
He added that Lee Teng-hui's comments were detrimental to the nation's dignity and were utterly unbearable.
Democratic Progressive Party (DPP) presidential candidate Tsai Ing-wen (蔡英文) — who has been repeatedly asked by the KMT to respond to Lee Teng-hui's comments — said it is his own "personal experience and feelings" about history.
"[We should] tolerate each other's historical interpretations. After all, Taiwanese had not been able to govern themselves for the previous few hundred years. We should cherish the freedom of choice we now have under the mechanism of democracy," Tsai said.
Comments will be moderated. Keep comments relevant to the article. Remarks containing abusive and obscene language, personal attacks of any kind or promotion will be removed and the user banned. Final decision will be at the discretion of the Taipei Times.