Veteran human rights activist Lynn Miles dies at 72
Human rights and social activist Lynn Miles, a well-known fighter for Taiwanese democracy, died early yesterday morning at a hospice in New Taipei City.
The 72-year-old American, also known by his Chinese name Mei Hsin-yi (梅心怡), had been suffering from mesothelioma, a cancer linked to asbestos that attacks the membrane lining of the lungs and abdomen, for several months, and spent the past few weeks at the Tzu Chi General Hospital in Xindian District (新店). He died at 1:30am.
Miles first came to Taiwan in 1962 to study Chinese. He became friends with people such as National Taiwan University professor Peng Ming-min (彭明敏) and writer Li Ao (李敖), and in 1967, he and a German friend, Klaus-Peter Metzke, opened The Barbarian (野人咖啡室) cafe in Ximending, where people could meet and exchange ideas.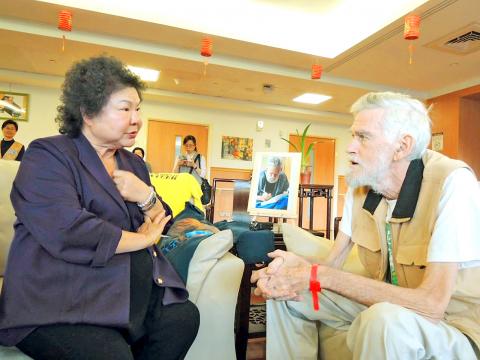 Kaohsiung Mayor Chen Chu, left, visits veteran activist Lynn Miles at the Tzu Chi General Hospital in New Taipei City on May 18. Miles died yesterday at age 72.
Photo: Liu Li-jen, Taipei Times
He helped Peng, who, along with two of his students, had been convicted for publishing a manifesto calling for the overthrow of the Chiang Kai-shek (蔣介石) regime, escape house arrest and flee the nation for exile in Sweden in 1970.
The Chiang government deported Miles the following year, after he tried to help Li and Peng's two students after they were arrested. The government blacklisted him from returning to Taiwan until 1996.
Miles moved to Osaka, Japan, where he continued his pro-democracy efforts for Taiwan, establishing the International Committee for the Defense of Human Rights in Taiwan. The committee helped smuggle information about political prisoners out of Taiwan and Miles wrote reports on the political situation and the prisoners, and provided them to Amnesty International and other rights groups, reporters and churches.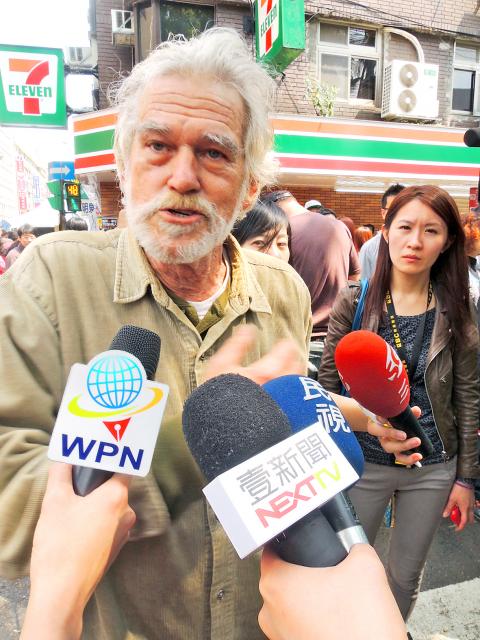 Rights activist Lynn Miles talks to reporters about the Sunflower movement in Taipei on March 23 last year. Miles died early yesterday morning in New Taipei City after fighting lung cancer for several months.
Photo: Hsieh Wen-hua, Taipei Times
He spent several years in the US before returning to Taiwan once the blacklist was lifted.
He received permanent residency in Taiwan in 2006 for his "special contributions to the nation" and in recent years taught at Fu Jen Catholic University.
The New Jersey native continued to be a familiar face at protests over rights issues and spoke out on a variety of issues, including efforts to end the death penalty in Taiwan, and organizing several Peacefests. He burned his US passport in front of the American Institute in Taiwan in Taipei on March 23, 2003, to protest the US-led war in Iraq.
He coauthored with Linda Gail Arrigo a book about the human rights movement in Taiwan, A Borrowed Voice: Taiwan Human Rights through International Networks, 1960-1980, which was published in 2008.
In February, Miles was among 119 people indicted by Taipei prosecutors for taking part in Sunflower movement-linked rallies in Taipei in the spring of last year against the government's handling of a cross-strait service trade agreement.
As Miles' health worsened in recent weeks, several prominent Democratic Progressive Party (DPP) members visited him at the hospital, including DPP Chairperson Tsai Ing-wen (蔡英文) and Kaohsiung Mayor Chen Chu (陳菊), while a Peacefest to celebrate his life was held on May 30.
Tsai, who is currently on a trip to the US, mourned Miles' death.
"Leaning about his passing away is a very saddening thing," Tsai said in a statement on her official Facebook page. "As an American, he has always been a good friend of Taiwan, who long assisted Taiwan in democratization, and sincerely hopes that the Taiwanese people could live in freedom and democracy."
She called Miles a witness of a time.
"From undemocratic to democratic, it is because of many friends like him who took actions to support us that Taiwan is able to become democratized in the end," Tsai said. "May he rest in peace, and may he be free of all pains."
Additional reporting by Loa Iok-sin
Comments will be moderated. Keep comments relevant to the article. Remarks containing abusive and obscene language, personal attacks of any kind or promotion will be removed and the user banned. Final decision will be at the discretion of the Taipei Times.