Eight-year-old who had throat cut dies in hospital
'POLITE YOUNG MAN': Murder suspect Kung Chung-an reportedly confessed to the killing. His former colleagues said he was well-mannered and performed his job well
A second-grader whose throat was cut at an elementary school in Taipei died of her wounds yesterday, less than a day after she was attacked.
The eight-year-old girl, who was identified only by her surname, Liu (劉), was found bleeding from her neck and unconscious on the floor of a bathroom on Friday afternoon and was rushed to Taipei Veterans General Hospital.
Medical staff said Liu showed no vital signs when she arrived at the hospital and had a 10cm cut to her neck that had severed her trachea and carotid artery.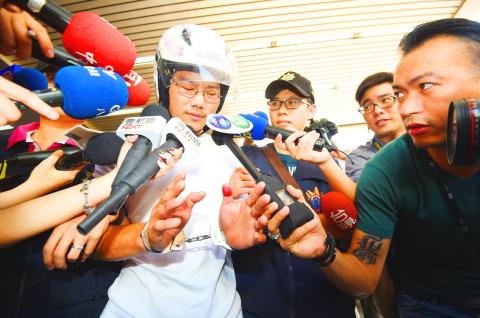 Kung Chung-an, who is suspected of having killed a student at the Wenhua Elementary School in Taipei's Beitou District on Friday, is escorted by police to the Shilin Distirct Court yesterday.
Photo: Lo Pei-der, Taipei Times
Doctors resuscitated Liu and restored her vital signs after surgery, but she remained in critical condition. She was pronounced dead at 10:43am yesterday.
Department of Pediatrics head Soong Wen-jue (宋文舉) choked up with tears when he announced the news to the media yesterday.
"We are very sorry. We were unable to save her life," Soong said, after 19 hours of emergency surgery.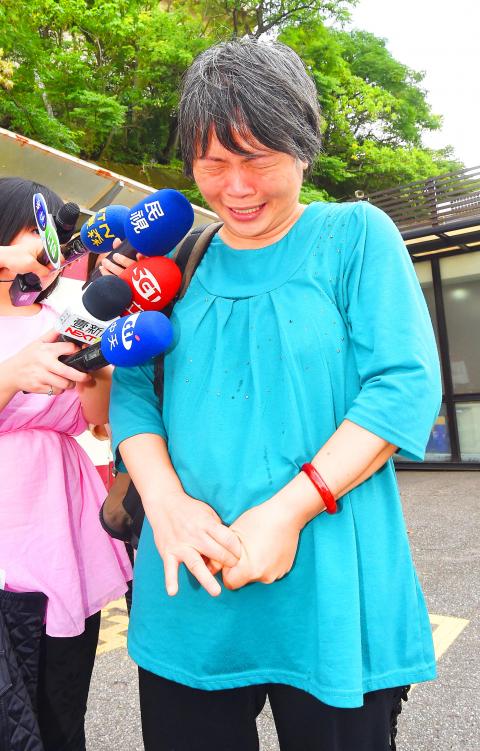 A Chinese zither teacher surnamed Chang who taught the girl who was killed at Wenhua Elementary School in Taipei's Beitou District on Friday weeps as she talks to reporters yesterday.
Photo: Liu Hsin-de, Taipei Times
Soong said that Liu suffered brain damage due to loss of blood and a stopped heart, and that her condition deteriorated rapidly yesterday morning.
In the end it was not possible to save her life, Soong said.
"Most of the doctors and nurses here are parents. It was also agonizing for us. We feel terrible about her death," he said.
The suspected killer, 29-year-old Kung Chung-an (龔重安), was taken into custody after questioning at Taipei's Shilin District Prosecutors' Office yesterday, with authorities continuing their investigation.
Kung is suspected of having entered Wenhua Elementary School in Taipei's northern Beitou District (北投) on Friday and using a knife to slit Liu's throat.
Police said preliminary questioning indicated that Kung picked Liu as his victim simply because she was alone and outside of her classroom.
He allegedly followed her into the toilet, where he grabbed her from behind and cut her throat.
During a bail hearing at the Shilin District Court yesterday, Kung said he wanted to kill someone because he had problems at work, was unhappy about his life and did not have a girlfriend.
Kung also said that lately he felt stressed and that he heard voices scolding him, which led to him committing the crime.
An official at the Shilin District Court said that Kung admitted attacking the girl during questioning yesterday.
Investigators searched Kung's rented apartment in Beitou for illicit drugs, bit did not find any, they said.
Former coworkers from his previous jobs as a courier and building security guard said Kung was a polite young man who performed well at work.
Kung's family said he moved out a few years ago to live alone, adding that he was fond of playing action computer games and enjoyed reading comic books.
Kung was taken into custody and transferred to the Taipei Detention Center in New Taipei City's Tucheng District (土城) after his bail hearing yesterday, where prosecutors cited the likelihood of him attempting to flee justice.
Additional reporting by CNA
Comments will be moderated. Keep comments relevant to the article. Remarks containing abusive and obscene language, personal attacks of any kind or promotion will be removed and the user banned. Final decision will be at the discretion of the Taipei Times.