Ma touts South China Sea peace plan
SEEKING CALMER SEAS: The proposal calls for shelving disputes in favor of dialogue and cooperating on research, environmental protection and humanitarian aid
President Ma Ying-jeou (馬英九) yesterday called for putting aside differences and promoting the joint development of resources in a "South China Sea peace initiative."
In an address to an International Law Association and American Society of International Law Asia-Pacific Research Forum in Taipei, Ma said the government is willing to exploit resources in the South China Sea in cooperation with others based on the basic principles of safeguarding sovereignty, shelving disputes, pursuing peace and reciprocity.
"As this year marks the 70th anniversary of the end of World War II, the countries surrounding the South China Sea should heed the lessons of history and commit themselves to advancing regional peace and prosperity," he said.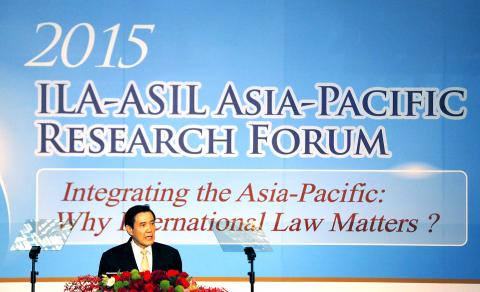 President Ma Ying-jeou announces his South China Sea peace initiative during a speech to the International Law Association and American Society of International Law Asia-Pacific Research Forum in Taipei yesterday.
Photo: AP
"We emphasize that while sovereignty cannot be divided, resources can be shared, thereby replacing sovereignty disputes with resource sharing," he added.
His intiative calls on all parties concerned to exercise restraint, safeguard peace and stability in the South China Sea, and refrain from taking unilateral action that might escalate tensions.
It also calls for parties concerned to peacefully deal with and settle disputes through dialogue and consultation, and uphold the freedom and safety of navigation and flight through the region.
Taiwan, China, the Philippines, Vietnam, Malaysia and Brunei claim all or parts of the South China Sea.
China has sparked tensions in the region in recent months by launching land reclamation work in the Spratly Islands (Nansha Islands, 南沙群島), building artificial islands and establishing military facilities on some of them, including an airstrip. Taiwan administers Itu Aba Island (Taiping Island, 太平島), the largest island in the Spratly archipelago.
Ma said that all parties should be included in mechanisms or measures that enhance peace and prosperity in the South China Sea and a regional cooperation mechanism should be established for the development of resources through integrated planning.
He also proposed establishing mechanisms to coordinate cooperation in environmental protection, scientific research, maritime crime-fighting and humanitarian assistance and disaster relief.
A Presidential Office source said Ma's new peace initiative is a bid to extend Taiwan's peace efforts in the region to the contested South China Sea in the wake of two previous intiatives.
His first initiative, begun shortly after he took office in 2008, was a push for cross-strait reconciliation under the framework of the Constitution and on the basis of the so-called "1992 consensus."
In 2012, he proposed an East China Sea peace initiative to promote peace in the region that called on claimants to shelve disputes, pursue peace and mutual interests and cooperate in exploring resources.
Taiwan, China and Japan all claim the Diaoyutai Islands (釣魚台) in the East China Sea, which are known as the Senkakus in Japan.
Ma also hopes that these peace initiatives help establish Taiwan as a peacemaker in the world and a key to stability and prosperity in East Asia, the source said.
When asked by reporters in Beijing about Ma's proposal, Chinese Ministry of Foreign Affairs spokeswoman Hua Chunying (華春瑩) said: "We believe that Chinese people from across the [Taiwan] Straits have the obligation to safeguard national territorial sovereignty and maritime rights and interests, as well as peace and stability of the South China Sea."
One analyst said that the president's latest intiative could also be a bid to reiterate Taiwan's own claims in the region.
"Few countries may take the initiative seriously, but Ma has to make it clear that Taiwan will by no means back down on territorial issues, while calling for no use of force," Chinese Culture University political science professor George Tsai (蔡瑋) said.
"Saying it at a time when tensions are growing may capture more international exposure," Tsai said.
Additional reporting by AFP
Comments will be moderated. Keep comments relevant to the article. Remarks containing abusive and obscene language, personal attacks of any kind or promotion will be removed and the user banned. Final decision will be at the discretion of the Taipei Times.