Gridlock stymies PM2.5 reform
BLOWING SMOKE: Officials seeking 'flexible' enforcement of air pollution laws were quizzed over their wording. One legislator asked if the EPA had abandoned its principles
A legislative committee session yesterday sputtered into gridlock as legislators and government officials sparred over legal language in proposed amendments to limit air pollution, prompting several legislators to accuse the authorities of being nonchalant about potential health hazards posed by factory emissions.
The session focused on capping factory-emitted PM2.5 — airborne pollutants measuring less than 2.5 micrometers — identified as a carcinogen by the WHO and the International Agency for Research on Cancer.
An amendment proposed by Democratic Progressive Party (DPP) Legislator Lin Shu-fen (林淑芬) said that if the annual concentrations of air pollutants — ozone, PM10 and PM2.5 — gauged in a municipality exceeds the annual standard stipulated by the Environmental Protection Administration (EPA) for three years in a row, that municipality shall be designated a "level 3" air pollution prevention zone, meaning air quality in the region is in breach of emission standards.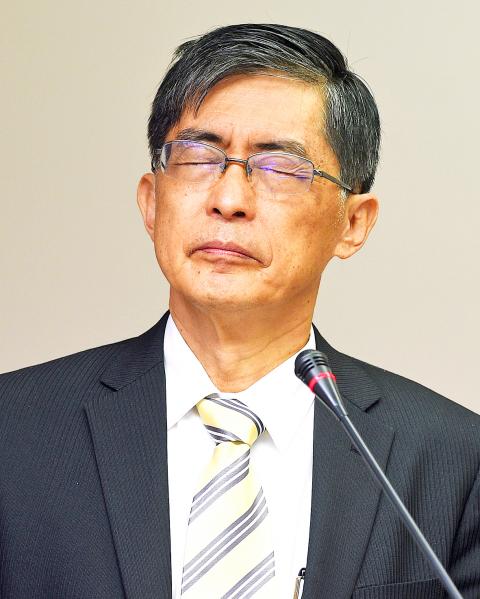 Environmental Protection Administration Minister Wei Kuo-yen reacts during a legislative committee session in Taipei yesterday on proposed amendments to limit air pollution.
Photo: Lo Pei-der, Taipei Times
Furthermore, if a municipality records subpar air quality for five consecutive years, it alone — or together with its neighbors — shall be designated an overall emission control zone, which would prohibit the establishment of new factories unless proprietors obtain emission quotas granted to existing plants by auction or direct trading.
Lin said that air pollutants produced throughout the nation often exceed standards set by the administration, but that there has been no legal tool to hold plants accountable for emissions since the act was introduced in 1999.
An amendment submitted by DPP Legislator Liu Chien-kuo (劉建國) proposes a standard emission inspection system and an emission quota trading system for control zones, and that the systems be introduced after the administration consults with the Ministry of Economic Affairs.
EPA and ministry officials objected to both plans.
Department of Air Quality Protection and Noise Control Director-General Chen Hsien-heng (陳咸亨) said that since the makeup of industrial sectors and their clientele vary, and the pollution reduction technology employed by each firm varies, the proposed rules should not be imposed indiscriminately.
Environmental Protection Administration Minister Wei Kuo-yen (魏國彥) suggested that Lin's phrasing of "shall" be changed to "may," in accordance with the wording of the article she intends to amend, saying that it allows for more "flexible" enforcement.
He also said that Liu's use of the word "consult" should be changed to "convene with" — a sentiment echoed by Ministry of Economic Affairs Deputy Minister Shen Jong-jin (沈榮津).
Chen and Wei's remarks angered some legislators, who said the officials attempted to stall the introduction of overall emission control zones to protect businesses at the cost of public health, and that their proposed wording aimed at weakening accountability for pollution.
Lin criticized the EPA, saying it "subordinates itself" to the ministry, while DPP Legislator Chao Tien-lin (趙天麟), who chaired the meeting, asked Wei if the administration had "completely abandoned its principles."
Chao broke up the meeting after announcing that the proposed amendments would be taken to the grand assembly for further discussions. None of the 10 amendments discussed yesterday were passed.
Comments will be moderated. Keep comments relevant to the article. Remarks containing abusive and obscene language, personal attacks of any kind or promotion will be removed and the user banned. Final decision will be at the discretion of the Taipei Times.