US police kill two men at 'Prophet cartoon' contest
TEXAS GUNFIGHT: Local police said the shoot-out with two armed suspects lasted 'seconds,' while organizers said they hired extra security for the 'free speech' event
US police have shot dead two armed assailants outside a Prophet Mohammed cartoon contest in Texas put on by a group that has a history of sparking controversy with its statements on Islam.
While no confirmed claim of responsibility for the attack on Sunday was made, similar depictions of the Prophet Mohammed prompted a shooting at French satirical weekly Charlie Hebdo in January that killed 12 people.
US authorities are investigating the shooting and police said it was still unclear if the attack was related to the event.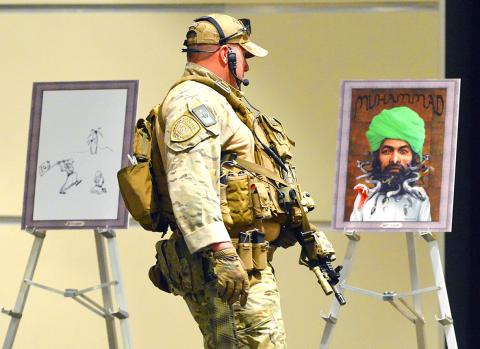 A heavily armed police officer views artwork before Dutch politician Geert Wilders delivers a keynote address at the Muhammad Art Exhibit and Contest in Garland, Texas, on Sunday.
Photo: EPA
A White House official said US President Barack Obama was briefed on the situation in Texas.
The right-wing American Freedom Defense Initiative (AFDI) organized the event in a suburb of Dallas. It featured far-right Dutch politician Geert Wilders, who has been outspoken against Muslims and is targeted by radical groups.
Police said two men drove up to the conference center in Garland, Texas, "exited a vehicle and began shooting" at a security guard.
"Garland Police officers engaged the gunmen, who were both shot and killed," city authorities said in a statement.
The security guard was shot in the ankle, treated at a hospital and released, the city said.
Local police said the shoot-out lasted "seconds," while organizers said they had prepared extra security for the event due to the general risk of an attack.
Wilders has long been targeted by extremists because of his extreme views on Islam.
"I am shocked. I just spoke for half an hour about the cartoons, Islam and freedom of speech and I had just left the premises," Wilder said in an e-mail.
"This is an attack on the liberties of all of us!" Wilders added. "I hope it is not connected to [the] death list [of] al-Qaeda."
He added that he was safe with police.
Wilders said that he would return to the Netherlands yesterday, but would return to the US next week for another speaking engagement.
Many Muslims find depictions of the Prophet Mohammed offensive and such cartoons have triggered violent protests.
The identities of Sunday's shooters have yet to be confirmed, but the SITE Intelligence Group reported that an Islamic State fighter said on Twitter that the shooting was carried out by two Islamic State supporters.
In a series of tweets, a militant Abu Hussain AlBritani, who SITE said was British Islamic State fighter Junaid Hussain, said: "2 of our brothers just opened fire" at the Prophet Mohammed exhibition in Texas.
A Twitter account that might have been used by one of the shooters appeared to mention the attack before it occurred. The account was later suspended by Twitter.
About 200 people were inside the event, local police spokesman Joe Harn said.
He said the first suspect was shot dead immediately, while the second was shot after reaching for his backpack.
Police said they thought that the assailants' vehicle could contain an "incendiary device" and a bomb squad was at the scene.
A hotel in the suburban area was evacuated and nearby roads were closed off, local residents said.
AFDI, criticized for promoting anti-Islamic views, offered a US$10,000 prize for the winner of the cartoon contest that was billed as a "free speech" event.
AFDI cofounder and political activist Pamela Geller called the shootings a "war on free speech."
"What are we going to do? Are we going to surrender to these monsters?" she wrote on her Web site.
Comments will be moderated. Keep comments relevant to the article. Remarks containing abusive and obscene language, personal attacks of any kind or promotion will be removed and the user banned. Final decision will be at the discretion of the Taipei Times.