Ma instructs ministry to review military discipline
'HIGHLY CONCERNED': The president said that recent events involving a breach of regulations by military officials had a negative impact on the armed forces' image
President Ma Ying-jeou (馬英九) yesterday demanded that the Ministry of National Defense review discipline within the military in the wake of a security lapse at a military base in Taoyuan where Apache helicopters are stationed.
Presidential Office spokesman Charles Chen (陳以信) said Ma has always emphasized the importance of maintaining military discipline and is "highly concerned" about the recent incident, which has negatively affected the military's image.
Chen said Ma has asked the defense ministry to launch an immediate review of certain procedures within the military.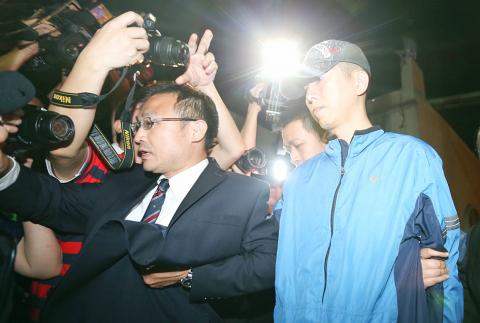 Apache helicopter pilot Lieutenant Colonel Lao Nai-cheng, right, is surrounded by reporters yesterday after a court in Taoyuan released him on NT$500,000 bail.
Photo: CNA
Minister of National Defense Kao Kuang-chi (高廣圻) yesterday expressed anger at the "dereliction of duties and brazen flaunting of regulations" by military officials over the Apache tour incident and ordered all armed forces units to conduct disciplinary review meetings today.
601st Air Cavalry Brigade Lieutenant Colonel Lao Nai-cheng (勞乃成) on March 29 took a group of 26 relatives and friends, including a Japanese man and five foreign domestic helpers and caregivers, on a tour of his restricted military base in Taoyuan's Longtan District (龍潭), which houses US-made AH-64 attack helicopters.
The incident came to light after one of the visitors, television personality Janet Lee (李蒨蓉), posted four photographs of the visit on Facebook, drawing media criticism of military security.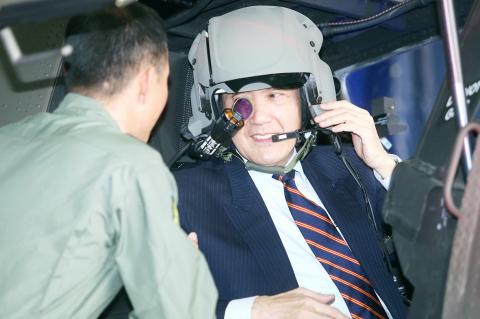 President Ma Ying-jeou sits in the cockpit of an AH-64E Apache helicopter wearing an integrated-display helmet at a ceremony on Dec. 13, 2013.
Photo: CNA
Kao convened a meeting to discuss Lao's case yesterday, which was attended by senior military brass from the main armed forces command headquarters.
Lao allegedly tried to cover up facts about the incident, including the total number of people that were involved and the presence of six foreign nationals in the group.
"During last week's initial investigation by the Army Logistics Command, the military officials took Lao's words at face value, and did not investigate more thoroughly. What Lao did has severely damaged the image of our armed forces in the public's eyes," Kao said.
Kao said that a recent string of scandals highlighted serious disciplinary problems among soldiers and officers in the armed forces. These included reports of a male superior sexually harassing female subordinates on outlying Dongyin Island (東引島), an army major harassing female soldiers in an armored brigade in Kaohsiung and alcohol-fueled parties at a naval-base barracks.
During the meeting, Kao ordered the ministry to organize a special task force to investigate Lao's conduct and violations of military regulations arising from the case, to be composed of staff from the ministry's Inspector-General's Office, Ethics Office and Political Warfare Bureau.
"The task force will be responsible for carrying out a thorough investigation of this case, to uncover the facts of the matter. We will not tolerate breaches of regulation by any officer," Kao said.
"We must enforce regulations and disciplinary measures. It is time to dismiss those who are not suited for a career in the military," he added.
The ministry said Lao is to receive a major demerit for taking a NT$2 million (US$63,891) integrated helmet and display sight system, used for operating the Apache helicopters, and a full flight suit to a Halloween party in October last year.
Additional reporting by CNA
Comments will be moderated. Keep comments relevant to the article. Remarks containing abusive and obscene language, personal attacks of any kind or promotion will be removed and the user banned. Final decision will be at the discretion of the Taipei Times.