S Korea union representatives return to protest against factory shutdowns
Union representatives from South Korea's Hydis Technologies have launched a second wave of protests in Taipei, calling on Taiwan's E Ink Holdings Inc (EIH, 元太科技) — of which Hydis is a subsidiary — to revoke its decision to shut down two factories in South Korea.
Traversing national boundaries, the heated labor dispute has raged since January, when EIH — which supplies e-paper displays for Amazon.com Inc and Sony Corp — announced its intention to dismiss more than 350 Hydis workers.
About 30 South Korean workers yesterday rallied in front of the Ministry of Labor building, urging authorities to facilitate talks between the workers and the Yuen Foong Yu (YFY Group) — with which EIH is affiliated.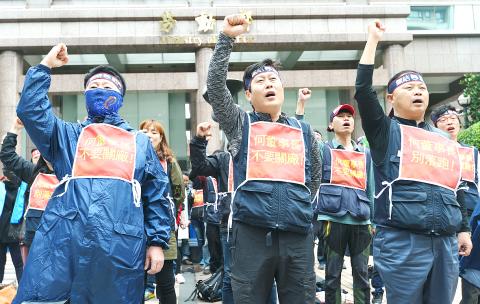 Union representatives from South Korea's Hydis Technologies protest outside the Ministry of Labor in Taipei yesterday, calling on Taiwan's E Ink Holdings Inc not to shut down two subsidiary factories in South Korea.
Photo: Chang Chia-ming, Taipei Times
Union representatives rebuked EIH's claims that Hydis was unprofitable, saying that Hydis made more than NT$2.8 billion (US$89.81 million) last year from its patent royalties in Fringe Field Switching (FFS) — a key technology in the LCD electronics industry.
They said the closures would cost the jobs of more than 350 Hydis workers, adding that it was against South Korean labor regulations for a profitable company to engage in a mass layoff of its employees.
Hydis union president Woo Boo-ki said the workers intend to continue their protests until they are allowed to keep their jobs.
The workers accused EIH of stripping investment after absorbing the South Korean company's key technologies.
"When the dismissals were announced, we felt robbed of our heritage, as FFS was something we worked hard together to build; how would you feel if somebody took away your national treasures from a museum?" said Sean Kim, an assistant manager in international sales.
Hydis has experienced a turbulent recent history since it was acquired by China's BOE Technology Group Co (京東方) in 2003. The troubled company later filed for court receivership in 2006 after BOE executives were accused of leaking key patented technologies to China. It was acquired by EIH in 2008.
South Korean labor activist Chong Hye-won called on Taiwanese authorities to step in over the case, as YFY Group chairman Ho Shou-chuan (何壽川) is a national policy adviser to President Ma Ying-jeou (馬英九) and is seen as well-connected with the current administration.
Despite repeated efforts, the workers' demands to arrange a meeting with Ho and YFY Group board members have failed to materialize, Chong said.
The activists said it was within the Ministry of Labor's power to ensure that the YFY Group does not evade its responsibilities in negotiating with the South Korean workers.
However, the ministry's Union Affairs section head Hsu Ken-kuei (許根魁) said that the Collective Agreement Act (團體協約法) does not hold binding authority over labor disputes that occur overseas.
He said the ministry would continue to facilitate talks between the workers and YFY Group, adding that the two parties need to overcome their disparate views on the company's financial wellbeing.
EIH said in a statement that its decision to close down its South Korean factories was obliged by local law.
"The accusation is not true. It is a rumor from certain union representatives, which have caused social unrest in Taiwan," EIH said in the statement.
The company again urged Hydis employees to return to the negotiation table.
E Ink plans to shut down two factories in Icheon, South Korea, at the end of this month after its multi-year turnaround efforts failed.
The company said it is offering a new early retirement program for Hydis employees, job relocation and education subsidies for children of Hydis workers, which is better than its standard offering.
"The board decided to shut down factories that are uncompetitive because of high manufacturing costs," EIH said. "The closure is fully obliged by South Korean law."
Hydis has lost more than US$100 million since 2008, primarily due to low factory utilization and a poor yield rate, EIH said.
Comments will be moderated. Keep comments relevant to the article. Remarks containing abusive and obscene language, personal attacks of any kind or promotion will be removed and the user banned. Final decision will be at the discretion of the Taipei Times.