Protesters pelt Chiang statue with eggs, paint
The statue of Chiang Kai-shek (蔣介石) in the Chiang Kai-shek Memorial Hall in Taipei was vandalized by a group of activists from the "Taiwan Republic Campaign" yesterday in an apparent political protest timed to coincide with 228 Memorial Day.
The activists threw eggs and water balloons filled with black paint onto the statue, while shouting: "Chiang was a murderer" and "there is no forgiveness if there is no truth," referring to the 228 Incident and the White Terror era.
Police said that two activists — Peter Wang (王獻極) and Chen Chun-han (陳峻涵) — were taken in for questioning and might be charged with violating the Social Order Maintenance Act (社會秩序維護法).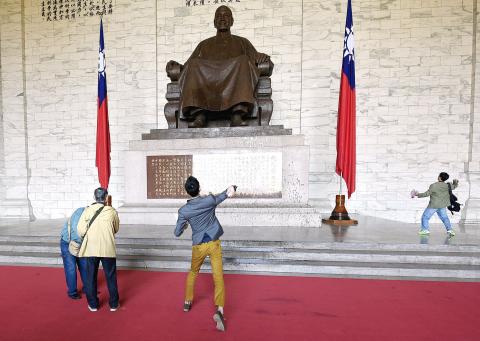 Activists from the "Taiwan Republic Campaign" hurl eggs at a statue of Chiang Kai-shek at the Chiang Kai-shek Memorial Hall in Taipei yesterday.
Photo: George Tsorng, Taipei Times
In a press conference held earlier in the day, Chen said that the campaigners would remind Taiwan of its history and facilitate transitional justice through their annual activities commemorating the 228 Incident.
The 228 Incident, which began on Feb. 27, 1947, refers to an uprising against the then-Chinese Nationalist Party (KMT) administration, which led to the killings of tens of thousands of Taiwanese and nearly four decades of martial law.
Chiang statues and symbols on college campuses nationwide were vandalized in a similar manner on Thursday, including those in National Chiao Tung University, National Yang Ming University, Soochow University and Fu Jen Catholic University.
Statues were covered with red paint or draped in folds of cloth, on which words like "murderer" or "repent for the dead" were graffitied — apparently referring to Chiang's involvement in the 228 Incident and the ensuing White Terror era.
Chen Yu-hsiang (陳佑詳), a senior at National Yang Ming University, said in a statement that "the public cannot do justice to the victims of the [White Terror] era if we observe 228 Memorial Day while turning a blind eye to totalitarian symbols that are ubiquitous on campuses."
"Regardless of Chiang's accomplishments and faults, what is more terrifying than the ubiquity of Chiang statues is the sacred and inviolable image of Chiang Gong (蔣公) [meaning revered generalissimo Chiang] and a slave mentality that many people still hold on to," he said.
A student campaigner surnamed Chen (陳) at Soochow University said that petitions to remove a Chiang statue from the university library had been submitted several times to authorities, only to meet with perfunctory responses, so the campaigners decided to escalate their campaign by doing something "radical."
Students have taken the campaign onto the Internet by setting up a Facebook page that encourages vandalism of Chiang statues, calling the vandalism "installation art."
Most college authorities said that they would not take any disciplinary actions against students who are allegedly involved in the vandalism, but called for the campaigners to express their opinions through proper channels.
Additional reporting by We Po-hsuan and Lee Ya-wen
Comments will be moderated. Keep comments relevant to the article. Remarks containing abusive and obscene language, personal attacks of any kind or promotion will be removed and the user banned. Final decision will be at the discretion of the Taipei Times.