Satellite images show China's rapid Spratlys expansion
A Washington think tank has obtained what it said are exclusive satellite images showing that China's land reclamation projects in the Spratly Islands (Nansha Islands, 南沙群島) are on a much larger scale and are progressing at a much faster rate than was previously known.
While US Department of State sources would not discuss the matter with the Taipei Times, a Los Angeles Times report on Thursday said that US officials were worried the buildup indicated a Chinese push to establish de facto control over resource-rich waters and islets claimed by Taiwan and other countries.
The US Center for Strategic and International Studies (CSIS) has published some of the photographs on its Web site, but refuses to reveal who supplied them.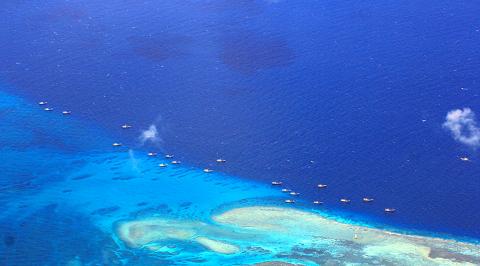 A handout photo taken on July 17, 2012, and released by the Philippine military shows Chinese fishing vessels anchored at Fiery Cross Reef (also known as Kagitingan and Yongshu Reef) on the disputed Spratly Islands.
Photo: AFP
The CSIS said construction is taking place on six reefs: the Gaven Reef (Nansyun, 南薰礁), Johnson South Reef (Chigua Reef, 赤瓜礁), Fiery Cross Reef (Yongshu Reef, 永暑礁), Mischief Reef (Meiji Reef, 美濟礁), Cuateron Reef (Huayang Reef, 華陽礁) and Hughes Reef (Dongmen Reef, 東門礁).
The center also published an article, "Taiwan's Development Work on Taiping Island," by Song Yann-huei (宋燕輝), a research fellow in the Institute of European and American Studies at Academia Sinica in Taipei.
"Taiwan's territorial claims in the South China Sea are identical to mainland China's," Song wrote.
"But Taiwan's concern about its security ties with the US, and Washington's worry about Taipei's possible cooperation with Beijing on South China Sea issues have forced Taipei to adopt an independent approach to safeguard sovereignty and maritime rights without seeking cooperation with Beijing," he said.
Beijing sees Taiwan's development work on Itu Aba Island (Taiping Island, 太平島) as a long-term strategic asset, he said.
"If Taiwan moved towards independence, it is possible that mainland China would take Taiping Island by force. Given that Beijing is building runways and other military-related facilities on the land features it occupies near Taiping Island ... this Chinese calculus cannot be overlooked," he said, adding that "it poses a serious security threat to Taiwan."
While Beijing insists it has rights to almost all of the South China Sea, a number of other countries, including Vietnam, the Philippines, Malaysia and Brunei, have lodged rival claims to at least some of the reefs.
The Philippines is protesting that the artificially created land could be used to build airstrips or offshore military bases in what the CSIS is calling an "increasingly volatile region."
The center said that an airstrip also appears to be under construction on Fiery Cross Reef, whose area appears to have increased 11-fold in the past few months, growing from .08km2 to 0.96km2.
"Experts posit that the reef could eventually become a military base twice the size of Diego Garcia in the Indian Ocean, allowing it to serve as command-and-control center for the Chinese Navy," an article on the CSIS Web site said.
The center also reported that a new building on Gaven Reef, almost identical to one on Hughes Reef, includes what appears to be an anti-aircraft tower.
"Those closely following the situation have been wringing their hands about the military potential of China's unprecedented island building work over the last year," said Gregory Poling, a fellow in Southeast Asia studies at the CSIS.
The think tank said that China is simply dredging sand from the seafloor and dumping it onto the shallow reefs.
"Once the desired amount of reclaimed land is created, workers surround the island with a concrete barrier to protect against erosion and storm surge and begin construction of new facilities," the CSIS Web site said.
It quotes an independent researcher on Southeast Asian security, Zachary Abuza, as saying that the purpose of the artificial islands is to give China the ability to enforce its claims to 90 percent of the South China Sea and force out other claimants.
Abuza said they could give China much greater power projection capabilities by serving as forward operating bases for its navy, coast guard and air force.
"They will also serve as facilities to support China's fishing and offshore oil exploration industries and extend both the country's range and time to work in the South China Sea," he said.
Comments will be moderated. Keep comments relevant to the article. Remarks containing abusive and obscene language, personal attacks of any kind or promotion will be removed and the user banned. Final decision will be at the discretion of the Taipei Times.